The name Jen Williams may already be known to UK-based Robots, as her fabulous fantasy series that started with The Copper Promise has been published over here to great acclaim by Headline. As big fans of the Copper Cat series, we were thoroughly delighted to snap up US and Canadian rights, and now we can announce that we will be publishing The Copper Promise there next summer, with The Iron Ghost to follow soon after.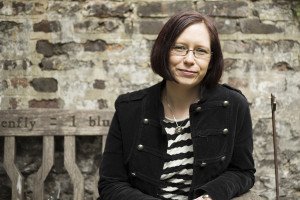 Without even the suggestion of being introduced to a terrifying array of "devices", Jen kindly said:
"I am thrilled and excited that Angry Robot will be publishing The Copper Promise and The Iron Ghost in the US. It's a whole new world for my characters to explore, and I can't wait for this new part of their journey. Of course, when it was revealed to me that as part of my contract I would have to travel into the past to prevent the human rebellion against the inevitable robot uprising, I was a little taken aback – I didn't have anything appropriate to wear and I tend to get travel sick – but all in all I am in favor of our robotic future. It's very tidy, very shiny, and the wi-fi is excellent. Of course, our Awesome Metallic Overlords mostly regard humans as especially squishy portable batteries, but the main thing is, I get to spread the word of Sword and Sorcery. It's all good."
Here's more about The Copper Promise:
There are some tall stories about the caverns beneath the Citadel – about magic and mages and monsters and gods. Wydrin of Crosshaven, known as the Copper Cat, has heard them all, but she's spent long enough trawling caverns and taverns with her companion Sir Sebastian to learn that there's no money to be made in chasing rumors.

But then a crippled nobleman with a dead man's name offers them a job: exploring the Citadel's darkest depths. It sounds like just another quest with gold and adventure… if they're lucky, they might even have a tale of their own to tell once it's over. These reckless adventurers will soon learn that sometimes there is truth in rumor. Sometimes a story can save your life.
Many thanks to Jen and her agent, Juliet Mushens, for making this happen. Lots more to tell about these wonderfully entertaining books over the next few months, but for now file this one under Can't. Bloody. Wait.