Hallowe'en is almost upon us, which means it's time to snuggle up on the sofa with a hot beverage and pull out that book or film you love to be frightened by (keeping a cushion close by to hide behind, of course). We're gearing up to do the same, so we thought we'd share some of the Angry Robot team and author's favourites.
Marc: 
Book:
Tales of a Dread Dreamer/Grimscribe by Thomas Ligotti, now in one volume from Penguin Classics. Wherever you think he's going to take a story, Ligotti always takes two steps to the left.
Film:
Nosferatu by Werner Herzog. Not so much for the film, which is a perfectly fine remake of the Murnau original with Klaus Kinski and all, but for the soundtrack by Krautrock legends Popol Vuh. The mix of pastoral calmness, eerie electronics and distinctly monkish chanting opened a lot of doors after I found it in a cheap bin for a quid at 16.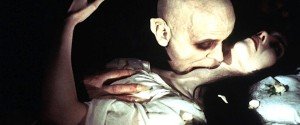 Book: 
My favourite scary book is Stephen King's collection of stories in Night Shift, specifically Graveyard Shift. I do not like rats, and the idea of being caught in a creepy basement with massive mutant rats is a thing of nightmares.
Film: 
My favourite scary movie is 28 Days Later directed by Danny Boyle. The idea of fast zombies absolutely terrifies me, and every time I watch it, I have dreams of being chased for weeks!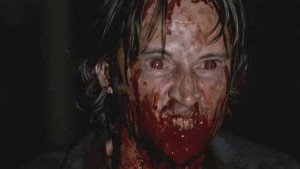 Matt Hill
(author of
Graft
):
Book: 
I'm going for a non-fiction title for my scary book, even though I'm utterly haunted by it (and 'favourite' isn't quite the right way to describe it). Gordon Burn's
Happy Like Murderers
 is an account, almost an oral history, of Fred and Rose West's crimes, based on weighty research. It feels odd to call the prose amazing (it is), but the book confronts, without sensationalism or tabloid glee, the power and depravation of the Wests, and in turn the worst of us – the real monsters. It's an incredible document: distressing, powerful and all the more frightening because these things happened. It's also totally unrecommendable.
Film:
My favourite scary film is Neil Marshall's The Descent, which I first saw in a near-empty cinema with no foreknowledge other than 'a group of women go caving'. The first half – full of mounting dread and panicked claustrophobia – is tense enough, and that's before the cave-mutants show up and things go bonkers. And then for pure terror and ingenuity, the night-vision monster-reveal scene is basically my favourite horror movie moment. It also has a fantastically bleak ending, which I imagine Mr Marshall still laughs his head off about.
Penny: 
Book:
Apart from that old classic, I was totally freaked out by Joe Hill's Heart-Shaped Box a couple of years back. Even worse, when I'd finished I read the acknowledgements which mention the people of Nottingham (where I live). I was pretty worried that Hill was reading my mind/sending ghosts to come for me after that. I also love Shirley Jackson's We Have Always Lived in the Castle, as it's so atmospheric and dark, despite its seemingly naive protagonist.
Film:
There are so many excellent films out there it's hard to choose just one. I'm going to go with The Blair Witch Project. I know, I know, you're judging. And you'd be right to, it's not the best film. However that one, incredibly low budget film spawned what has become the most used style of horror film since, the 'found footage'. Quite right, too. In 1999 it was found footage was so fresh and new and frankly, terrifying. After watching it for the first time and not knowing if this shaky videocam footage was real, I hotfooted it to my old PC, searching for any information I could find about Elly Kedward and Burkittsville (was it real, was it a prank? I needed to know!). Later when I had my own camcorder, my friends and I spent hours running around the graveyard at the bottom of my yard, recording frankly terrible movies in homage to Blair Witch. I totally bought into the story, and had a big influence what is now my passion for horror and weirdana. So, thanks Daniel Myrick and Eduardo Sánchez.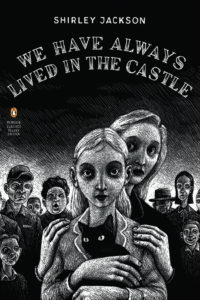 Mike:
Book:
I recently discovered Through the Woods by Emily Carroll, thanks to my wife, who is a big horror fan. This is a sequential art collection of creepy stories, conveyed with a consistent and evocative style and understated writing. It's gut-punch after gut-punch, with body horror, social horror, and plenty of suspense.
Film:
I love my horror with a dash (more a healthy splash, honestly) of comedy. And one of my favorite comedic horror movies is Evil Dead 2 – it takes most of the elements from the first film, and realizes it can be intentionally scary and funny at the same time. Ash is an incredibly memorable character, and the film's practical effects succeed at being creepy and in underscoring the comedic elements. Plus, chainsaw-hand.
Susan Murray (author of the Waterborne series):
Book:
A book needs at least a dash of the supernatural to be scary. Recent contenders include Lauren Beukes' The Shining Girls with an edge-of-the-seat finale as the killer is confronted. Or there's Kelley Armstrong's YA novel The Summoning which features a superbly creepy scene as the inexperienced necromancer is trapped next to several unmarked graves. But it takes time to make a favourite and Stephen King's Carrie still holds up after all these years, as the socially-awkward outsider is shunned. Who needs monsters when you have a community of such people?
Film:
As for a film, Tremors is much beloved in our household but perhaps no longer truly scary – the first time we watched it we were living in a static caravan and Nestor's demise pushed all the right buttons. The Omen hasn't aged well, but Alien remains as shockworthy as ever. John Hurt's death signals there are no holds barred, while Ripley is as awesome now as she was in 1979.
James A Moore (author of the Seven Forges series):
Book:
My favorite scary book is definitely Stephen King's IT. There's a little bit of everything in there, and the recollections of adults recalling their childhoods is beautifully handled. Absolutely delightful and dark and filled with hidden gems of horror throughout.
Film:
My favorite movie? That's tougher. For pure fun, I'd say Pumpkinhead, which is a perfect example of a proper Appalachian demon and the witch that summoned it. There are curses, there's revenge, a great monster, amazing cinematography. I'm going to throw in a bonus for the black and white crowd: Robert Wise's The Haunting (1963). A very nearly perfect ghost story based on The Haunting of Hill House by Shirley Jackson. Sublime.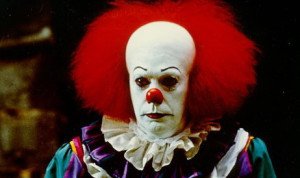 Patrick S Tomlinson (author of The Ark):
I'm not a fan of the horror genre per se, so my pics may seem tame or unconventional.
Book:
I'd have to say The Warded Man by Peter V. Brett. It blended high-fantasy and horror elements in a way I'd not seen before, and churned out some genuinely unsettling scenes and nail-biting fights.
Film:
As scary films go, it's got to be Gravity. I know this probably seems like an odd pick, but the suspense and psychological terror of this movie was really intense. Mostly because it wasn't about ghosts or monsters. It was about a real situation that a person could actually face. My immersion and suspension of disbelief was total. I had a palpable feeling of dread and anxiety through the entire film. It felt too real.
Like I said, for horror aficionados, these picks must certainly seem vanilla, but they did a number on me.