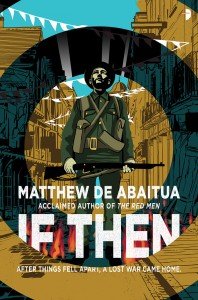 *Klaxon alert*
This month's io9 book club pick is one of ours! If Then by Matthew De Abaitua (author of The Red Men) is up for discussion on Tuesday, November 3rd.
Hosted by editor-in-chief Charlie Jane Anders, the book club is held online at io9 each month. Each book club post's comments section is open for users to add their comments and discussion topics relating to the book. If you're a little behind on your reading, fret not, the book discussion comments are left open for a few days, meaning you can still pitch even if you're a bit late. Following the book club, there is a chat with the author so any burning questions can be answered, or at least partly explained.
Here's the synopsis for If Then:
In the near future, after the collapse of society as we know it, one English town survives under the protection of the computer algorithms of the Process, which governs every aspect of their lives. The Process gives and it takes. It allocates jobs and resources, giving each person exactly what it has calculated they will need. But it also decides who stays under its protection, and who must be banished to the wilderness beyond. Human life has become totally algorithm-driven, and James, the town bailiff, is charged with making sure the Process's suggestions are implemented.
But now the Process is making soldiers. It is readying for war — the First World War. Mysteriously, the Process is slowly recreating events that took place over a hundred years ago, and is recruiting the town's men to fight in an artificial reconstruction of the Dardanelles campaign. James, too, must go fight. And he will discover that the Process has become vastly more sophisticated and terrifying than anyone had believed possible.
If Then is definitely a book that begs its readers to ask questions – so many questions – on human nature, the future and the nature of war – so we're sure that there'll be a grand old discussion happening.
You can find a link to the book club here. For a look at some previous novel choices check out the book club's GoodReads page.