Hi there,
It's been a busy couple of weeks on the orbiting death engine, with September titles being published and blog tours in full flow.
Santa Monica-based Adam Rakunas spoke with the Santa Monica Mirror about his debut novel, Windswept and the length of time he took to write his first novel. He then popped over to chat with the lovely John Scalzi about his Big Idea for Windswept – apparently pineapple juice and  a vacation in Hawaii provided the inspiration for Santee Anchorage, where the novel is based. Food and drink are apparently close to Adam's heart, as he tells Civilian Reader about how food helps with worldbuilding, too. Be warned: don't read if you're hungry.
Master of hard fantasy Andy Remic has been chatting with Sci-Fi Bulletin about the genre, and how far one can go before breaking spines and lopping off heads becomes too much. Over at SFF World Andy shared his short film about The Dragon Engine, as well as talking all things fiction, as well as his future plans, which include taking over the world, we're sure. If you want to win a copy of The Dragon Engine, then head over to Beauty in Ruins where you can read Andy's thoughts on the move towards an edgier kind of fantasy and enter the competition for one of five copies of the book.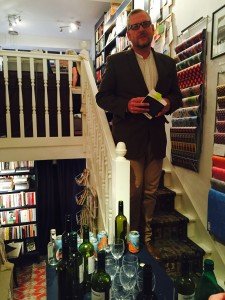 Last night Matthew De Abaitua took over Broadway Bookshop in Hackney, London for the launch of his novel If Then. The place was full to the brim and much wine and Beavertown's Gamma Ray consumed. A big thanks to the staff at Broadway Bookshop for all of their help. Matthew also took part in a podcast over at Traveler's Steampunk Blog. If Then has been generating some steam of its own, being featured twice on io9 this past week, once as one of the most thrilling sci-fi books heading your way in September and again as a sci-fi book you just can't afford to miss. We are inclined to agree.
That's it for this week, folks. Have a wonderful weekend!
Over and out.