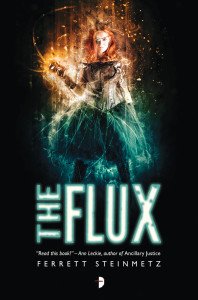 We love Ferrett Steinmetz's Flux series, and think everyone should read it, getting lost in the wonderful world of 'Mancy, bureaucracy and family values.
And it seems that we're not the only ones. Ken Liu, Hugo, Nebula and and World Fantasy Award winning author feels the same way. After reading the second in the 'Mancer series, The Flux, Ken decided to put pen to paper and let everyone know how much so.
Here's what he has to say on the matter:
"The Flux is the best kind of sequel: bigger, deeper, scarier, funner. The emotional journey it takes the reader on is just as thrilling as the jaw-dropping wonders of videogamemancy and bureaucramancy. With the 'Mancer series, Ferrett Steinmetz has achieved something rare in contemporary fantasy: a world that feels both truer and more magical than our own."
– Ken Liu, winner of the Nebula, Hugo, and World Fantasy Awards and author of The Grace of Kings and The Paper Menagerie and Other Stories.
This follows on from Ken's original praise of Flex, the first in the series:
"Featuring one of the most original magic systems ever devised and a pair of likable, layered protagonists, Flex is a fast-paced, imaginative, and emotionally engaging adventure. The developing friendships and rapport among the characters are portrayed with sensitivity and avoids cliches, and the magical battle sequences are rigorous and filled with ingenious touches that will make gamers and tax lawyers alike grin with joy."
– Ken Liu, winner of the Nebula, Hugo, and World Fantasy Awards
The Flux will be out on Oct 1 (UK/R.o.W)/Oct 6 (US/Can). Here's what you have to look forward to:
Love something enough, and your obsession will punch holes through the laws of physics. That devotion creates unique magics: videogamemancers. Origamimancers. Culinomancers.
But when 'mancers battle, cities tremble…
ALIYAH TSABO-DAWSON: The world's most dangerous eight-year-old girl. Burned by a terrorist's magic, gifted strange powers beyond measure. She's furious that she has to hide her abilities from her friends, her teachers, even her mother – and her temper tantrums can kill.
PAUL TSABO: Bureaucromancer. Magical drug-dealer. Desperate father. He's gone toe-to-toe with the government's conscription squads of brain-burned Unimancers, and he'll lie to anyone to keep Aliyah out of their hands – whether Aliyah likes it or not.
THE KING OF NEW YORK: The mysterious power player hell-bent on capturing the two of them. A man packing a private army of illegal 'mancers.
Paul's family is the key to keep the King's crumbling empire afloat. But offering them paradise is the catalyst that inflames Aliyah's deadly rebellious streak…