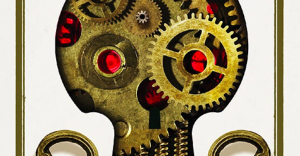 Will Staehle has done it again! The cover artist for Rod Duncan's The Bullet-Catcher's Daughter and Unseemly Science – the first two books in the Fall of The Gas-Lit Empire series – has excelled himself with the cover for the third book, The Custodian of Marvels. And oh, it's sumptuous.
Continuing from the events in Unseemly Science, The Custodian of Marvels sees Elizabeth persuaded by a circus acquaintance to attempt a heist on the patent office. Hidden in its depths could be the very thing to shake the foundations of the Empire.
All that stands in Elizabeth's way are the agents of the Patent Office, a Duke's private army and the mysterious Custodian of Marvels.
You can read an exclusive excerpt of the novel, thoughts on the cover from Rod, plus the cover itself over at Tor.com. In the meantime, here are a few reviews from the other titles in the Fall of the Gas-Lit Empire series:
"Looking for a good book?  Mystery, duplicity, secret societies, alchemy, romance, action … The Bullet-Catcher's Daughter by Rod Duncan has it all and promises to be the talked-about/must-read book for sci-fi/fantasy enthusiasts this year!"
– Looking For A Good Read
"Really, a fine and well crafted novel. As per the glossary, Elizabeth plays a key role in the fall of the Gas-lit empire. Cheers to that as she is a captivating character. Angry Robot has picked a winner."
– Koeur's Book Reviews
"Let's just say I haven't been this impressed by a book in a while… Unseemly Science is a beautifully written steampunk, alternate history style novel that manages to evoke the aesthetic without turning itself into a reflection of the rest of the trope out there. Elizabeth, the main protagonist, is a feminist heroine I can get behind — smart, intelligent, and void of the typical fantasy heroine. It's a slow burn mystery but so intelligently written and with a well developed world, I barely put it down… If I were to recommend you pick up anything this week, The Bullet Catcher's Daughter and Unseemly Science are it."
– Adventures in Sci Fi Publishing
"I got the shivers soon after I began reading and they didn't go away until after I finished. I thought I was hooked after reading Book #1 – now I am really hooked. If you're a steampunk fan, I need to let you know that its use is different from some of the in-your-face elements found in other steampunk novels, and I liked that. Bottom line: If you like alternate history, Holmes-style mysteries with nasty villains, sci-fi/fantasy, or just a nail-biting read, I recommend both books in this series. Okay, Rod Duncan, I hope you're busy writing Book #3 because I'm tapping my foot in anticipation of what Elizabeth is going to get into next!"
– Popcorn Reads