Hey all,
Welcome to another Robot Round-Up, bringing you all of the best Angry Robot news of late.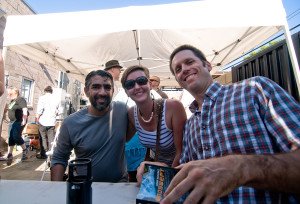 We love book launches, but book launches with free omusubi are the best! And that's just what Adam Rakunas shared with his fans at the launch of his debut novel Windswept last weekend. A great bunch of people turned up to Sunny Blue in Santa Monica, including Angry Robot author Carrie Patel (pictured here with Adam). Adam is continuing to promote his book with more appearances, you can find out more about that, and how to get yourself some great Windswept swag, here. Oh, and if you want to see Adam in a polyester blend band outfit, then you should definitely check out the letter he wrote to his teen self over at Dear Teen Me.
Marianne de Pierres' Mythmaker, the second in the Peacemaker series, will be released Oct 1 (UK/Aus/R.o.W) / 6 Oct (US/Can). Because we're so excited, we've shared the first chapter of the book with the lovely folk over at Carabas. Click here to take a look. Speaking of excerpts, if you head over to Tor.com you can see an exclusive excerpt of Kameron Hurley's Empire Ascendant, out in November, PLUS the excellent map of the Kingdoms of Grania by Stephanie MacAlea, too.
Those lovely folks over at Shelfie gave us some good news this week; If Then by Matthew De Abaitua is on its list of Top 10 Most Anticipated Books of Fall 2015. Speaking of Matthew, if you've ever wondered where our authors get their inspiration from, Matthew continued his blog tour this week by chatting to Civilian Reader about algorithms, social media and the First World War as his inspiration for If Then. Matthew also spoke with SFF World about his creative processes and how he relaxes after a long day of writing.
Peter Tieryas, author of United States of Japan (out in March 2016), also lifted the lid on his inspirations and took some time to talk with Fantasy Faction about his motives for writing the spiritual sequel to Philip K. Dick's The Man in the High Castle. Peter also wrote this great article on his favourite mechas in gaming and film, featuring Herzog Zwei, Xenogears and a mecha pig. As we're talking mechas, check out these two kick-ass robots created by John Liberto for a forthcoming United States of Japan short film. Pretty cool, huh?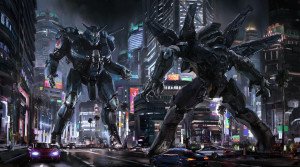 Finally, prime your clicking finger and pop over to amazon.co.uk, as for a short period The Bullet-Catcher's Daughter by Rod Duncan is just 99p!
That's all we have time for this week, but pop by again soon for more updates!
Over and out.