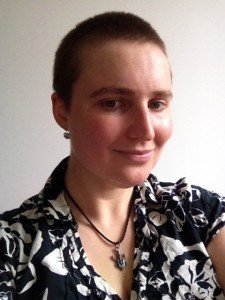 We're so delighted to share with you the signing of our newest author, Foz Meadows!
A two book deal (World: English) was acquired through Jennie Goloboy of Red Sofa Literary by our consulting editor Phil Jourdan. An Accident of Stars, the first in the series, which is described by Foz as 'a portal fantasy with the safeties off', will be published in summer 2016, with a second novel to follow.
You might know of Australian born, Aberdeen-based Foz through her Hugo-nominated blog, Shattersnipe, or from her many articles on The Huffington Post, Strange Horizons, Tor.com or the sadly now closed A Dribble of Ink. Foz has also written two previous books, Solace and Grief and The Key to Starveldt.
Foz Meadows: "After years of quietly (and sometimes not so quietly) obsessing over magic portals, feminism and adventuring ladies, I'm delighted to announce that Angry Robot has decided to enable me in these endeavours. An Accident of Stars is the book I desperately wanted to read, but couldn't possibly have written, at sixteen – and, as you may have guessed, it features (among a great many other things) magic portals, feminism and adventuring ladies. I'm immensely excited to share it with you, and I look forward to collaborating in its production with our glorious Robot Overlords, who only asked in exchange a very small blood sacrifice and part ownership of my soul."
Angry Robot Consulting Editor, Phil Jourdan: "Hooray! Bringing Foz onboard has made the Angry Robot family very happy indeed. I love the edge she's brought to the portal genre. Readers in different universes will appreciate this."
Here's the synopsis for An Accident of Stars:
When Saffron Coulter stumbles through a hole in reality, she finds herself trapped in Kena, a magical realm on the brink of civil war.
There, her fate becomes intertwined with that of three very different women: Zech, the fast-thinking acolyte of a cunning, powerful exile; Viya, the spoiled, runaway consort of the empire-building ruler, Vex Leoden; and Gwen, an Earth-born worldwalker whose greatest regret is putting Leoden on the throne. But Leoden has allies, too, chief among them the Vex'Mara Kadeja, a dangerous ex-priestess who shares his dreams of conquest.
Pursued by Leoden and aided by the Shavaktiin, a secretive order of storytellers and mystics, the rebels flee to Veksh, a neighboring matriarchy ruled by the fearsome Council of Queens. Saffron is out of her world and out of her depth, but the further she travels, the more she finds herself bound to her friends with ties of blood and magic.
Can one girl – an accidental worldwalker – really be the key to saving Kena? Or will she just die trying?
Head over to The Bookseller for the official announcement.