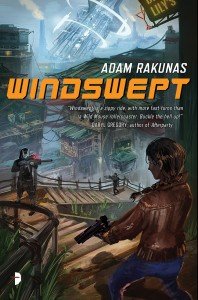 Do you like labor politics, rum and good comedy? How about swag? And signings? Well, Adam Rakunas, author of Windswept is offering all of those things and more, with his new giveaways and book tour.
Firstly, the swag. To be in with a chance to win tattoos, t-shirts, bookmarks and stainless steel flasks just choose one or more of the easy ways to enter Adam's competition, as outlined below.
TURN THE OTHER CHEEK: Add a fist, a la Jessica Smith's amazing Union logo – created especially for Windswept – to your cheek like the unionists in the book, and send a snapshot over to Adam (link via website, below). Or you can print out a logo and make your own temporary tattoo. Whatever you do, take a picture of your face adorned with a Union fist and send it to Adam.
JUDGE A RUM BY ITS LABEL: Make yourself an Old Windswept rum label and send it in, using the contest form. If you'd like a peek at what Adam envisions for the label, read a quick extract here. Adam's vision of the logo doesn't have to be the same as what you draw, so get those creative juices flowing.
LOOK FOR THE UNION LABEL: Make some union art. It can be anything from graffiti tags to murals to posters, anything you want. let your imagination run wild!
BUY THE BOOK: When the book is released (that's 1 September (US/Can) /  3 September (UK/R.o.W)) just send a copy of your receipt to Adam and get swag. As the man himself says, it's better to purchase multiple books, so you can be in with multiple chances of winning. Like buying Lottery lines.
To enter and possibly win, head over to Adam's website to complete a short entry form.
If you want to have the chance to win a copy of the book but aren't very arty, there's a competition over at GoodReads. Be quick though, there's only a couple of days left to enter!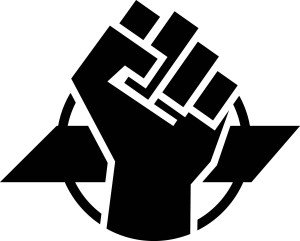 Adam will also be giving away more swag on his book tour, as well as chatting with friends new and old and of course, signing books. Just remember, if you see Adam on tour and say the magic phrase 'Padma Mehta sent me' you'll get a free Windswept tattoo.
Here are the locations of the tour (all events are free):
September 6, 3-6pm, Culver City, CA: The official launch will be held at Sunny Blue. Our lovely friends over at Mysterious Galaxy Books will be providing the books for the launch.
September 13, 5-7pm, Seattle, WA: There will be a reading at local rum bar, Rumba, and Adam promises to get in the first round of empanadas and daiquiris, so make sure to RSVP by September 6 to the event to ensure yours don't get eaten. Windswept will be on sale, so get your signed copies in.
September 19, 2-3pm, San Diego, CA: Three writers for the price (free) of one! Mysterious Galaxy are holding a signing event with Adam, Greg Van Eekhout and Fran Wilde. There will be Tecate and tacos, and more copies of Windswept.
November 5-8, Saratoga Springs, NY: Although not there to speak, Adam will be at the World Fantasy Convention, and you can probably find him in the bar. There will be snacks and swag. Just don't forget the magic words.
'Padma Mehta sent me.'