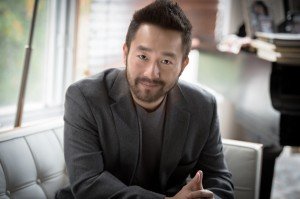 On Saturday night the Hugo Awards were held at Sasquan, and our authors were there to cheer on Wesley Chu, nominated for the John W. Campbell Award for Best New Writer(don't forget kids, it's not a Hugo).
As you may have seen, Wesley won the award this year and there's now a shiny new trophy taking pride of place on his mantelpiece.
We grabbed Wes to hear what he had to say about his win. Apparently it's preparing him well for presidency…"Please be on the lookout for the Wesley Chu Presidential Super PAC– Chupac. Contribute if you love freedom."
Our Robot Overlord Marc: "Beginning as an Open Door author, Wes has gone from strength to strength in the past two years and looks to have a shining future ahead of him, especially with the upcoming releases of Time Siege and Rise of Io. We're really happy the award fell to Wes this year, and hope that it's the first of many awards to come."
Wes was nominated for the same award last year, this year was the second and final year of eligibility for him.
Here's a picture of Wes at George R.R Martin's excellent Hugo Losers Party, wearing a conehead for losers to write insults on, as requested by the host.
Hai, I wun da campbell!! pic.twitter.com/VewvSO5ZWH

— Wesley Chu (@wes_chu) August 23, 2015