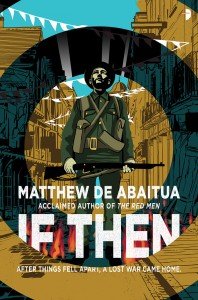 We're really, really excited for the release of Matthew De Abaitua's If Then next month and it looks like we're not the only ones. Simon Ings, author of Wolves has also shown his excitement with this great review:
"Matthew de Abaitua has written a novel about employment, about daily labour, about the dignity or otherwise of the working individual. If Then is a love story, the history of a marriage, a topical meditation on the end of capitalism; best of all, it is a bone-deep, blood-sweet British fantasy, naive and ingenious as William Morris and as warpedly nostalgic as Richard Jeffries' After London. It is also the only intelligent book ever written about the technological singularity. As disturbingly hyperreal as any Pre-Raphaelite painting, If Then imagines what the end of history really will really look like, what's really at stake, and maybe, just maybe, what we can do about it."
If Then is released 1 Sept (US/Can) / 3 Sept (UK/R.o.W). If you'd like an exclusive look at the first chapter of the book prior to the release date you can get it from Apex Magazine.