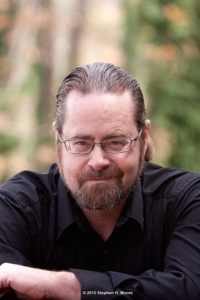 When James A. Moore, author of the Seven Forges series, came to us with a synopsis for a new trilogy we caught him in a holding device and threatened him until he promised to stay with us for The Tides of War.  We're happy to announce that James quickly caved from our various methods and The Last Tides, book number one in the trilogy, will be out in autumn 2016.
First though, James will be finishing his current Seven Forges trilogy, with the final book, City of Wonders, due for publication in November.
James: "After careful negotiations, Angry Robot has agreed to return my puppies unharmed. That is, the great folks over at Angry Robot Books have convinced me that my continuing to work with them in the publishing field would be mutually beneficial and has promised me many, many opportunities to speak with my family on the phone in exchange for my complete cooperation. I could not possibly be happier than I am at this moment, knowing that the three severed fingers were, in fact, merely props leftover from a movie and that no children were actually harmed in the course of our negotiations. Our Robot Overlords continue to ask only undying loyalty in exchange for the chance to serve, and really, what more could anyone want in this world? I'm delighted, of course, and look forward to seeing what other chaos we can generate together.'
Marc: "Jim Moore is one of the all-time good guys to work with. Already a master of sinister dark fantasy and horror, it turns out he's really good at epic fantasy too. We've still got two more titles to publish in the Seven Forges sequence, but I'm so pleased we've been able to sign him up for this brand new series of everyday warriors caught up in empire-spanning events too."
More details on the new series can be found over at Fantasy Faction.
If you'd like to catch up with Jim in person, he'll holding his inaugural Writers' Coffeehouse meet in Massachusetts on 15 September with Christopher Golden. More details can be found here.