In preparation for September launch day (1 Sept (USA/Can) / 3 Sept (UK/R.o.W) we're offering five copies of each of our September books as giveaways over at GoodReads.
Check the handy widgets further down the page to be taken through to the giveaways but first, here's what you can win.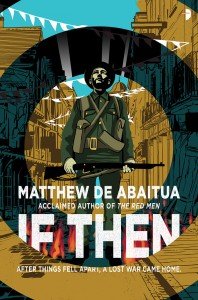 If Then, Matthew De Abaitua:
In the near future, after the collapse of society as we know it, one English town survives under the protection of the computer algorithms of the Process, which governs every aspect of their lives. The Process gives and it takes. It allocates jobs and resources, giving each person exactly what it has calculated they will need. But it also decides who stays under its protection, and who must be banished to the wilderness beyond. Human life has become totally algorithm-driven, and James, the town bailiff, is charged with making sure the Process's suggestions are implemented.
But now the Process is making soldiers. It is readying for war — the First World War. Mysteriously, the Process is slowly recreating events that took place over a hundred years ago, and is recruiting the town's men to fight in an artificial reconstruction of the Dardanelles campaign. James, too, must go fight. And he will discover that the Process has become vastly more sophisticated and terrifying than anyone had believed possible.
"If Then is a love story, the history of a marriage, a topical meditation on the end of capitalism; best of all, it is a bone-deep, blood-sweet British fantasy, naive and ingenious as William Morris and as warpedly nostalgic as Richard Jeffries' After London. As disturbingly hyperreal as any Pre-Raphaelite painting, If Then imagines what the end of history really will really look like, what's really at stake, and maybe, just maybe, what we can do about it."
Simon Ings, author of Wolves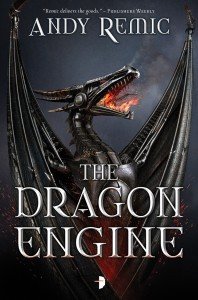 The Dragon Engine, Andy Remic: 
Five noble war heroes of Vagandrak get drunk one night and sign a contract – to journey to the Karamakkos in search of the Five Havens. There, it is written, there lies untold, abandoned wealth and, more importantly, the three Dragon Heads, legendary jewels claimed to give unspeakable power and everlasting life to those who wield them.
But the Dragon Heads aren't what the adventurers think they are, and the world has not encountered their like in many, many generations!
"Andy brings together two of the great writers Tolkien and Martin. Like Tolkien and Martin, you are put right in the story like you are watching a movie, yet you feel the emotions as if they were your own. I love it when an author can make you see and feel. The flow of the story plot was perfect; the characters are complex, yet believable. Now Andy has me sitting one the edge of my seat waiting for the next book to come out."
– Critique Corner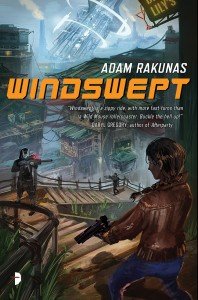 Windswept, Adam Rakunas: 
Padma Mehta has to save her city, her planet, and Occupied Space from a devastating crop-killing plague — all before Happy Hour.
Labor organizer Padma Mehta is on the edge of space and the edge of burnout. All she wants is to buy out a little rum distillery and retire, but she's supposed to recruit 500 people to the Union before she can. She's only thirty-three short. So when a small-time con artist tells her about forty people ready to tumble down the space elevator to break free from her old bosses, she checks it out — against her better judgment. It turns out, of course, it was all lies.
As Padma should know by now, there are no easy shortcuts on her planet. And suddenly retirement seems farther away than ever: she's just stumbled into a secret corporate mission to stop a plant disease that could wipe out all the industrial sugarcane in Occupied Space. If she ever wants to have another drink of her favorite rum, she's going to have to fight her way through the city's warehouses, sewage plants, and up the elevator itself to stop this new plague.
"This melange of fast-paced action, character study, social study and witty dialogue makes up a thoroughly enjoyable narrative treat."
– SF and F Reviews
As they say, you've got to be in it to win it, so use the widgets below to enter each competition.