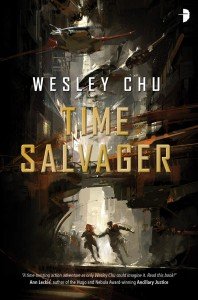 In good time for its release in the UK on 9 July, Wesley Chu's Time Salvager has been getting some well-deserved attention.
Firstly, check out io9's top books in July, which – as you've probably guessed – features Time Salvager. There's an excerpt from the first chapter here, if you'd like to see a hint of what io9 are talking about.
At the Barnes & Noble Sci-Fi & Fantasy Blog, we are told of four very good reasons that Time Salvager will make a great Michael Bay movie. Seeing as it's already been optioned for a film directed by the man himself, we're sure fans won't be disappointed.
Not content with being a book good enough to be turned into a blockbuster, Time Salvager has also been gathering some great reviews. Here are a few of our favourite:
"This is a rocket of a novel."
– Sci-Fi and Fantasy Reviews
"Time Salvager feels like the sort of science fiction I've been yearning for.To me, it is on par with greats such as Hyperion and Do Androids Dream of Electric Sheep? It's clever, it's fast, it's action-packed, but it also carries a message."
– Rinn Reads
"Time Salvager is a fantastic book and one I would highly recommend. The story is fantastic, the characters are really well fleshed out and the dystopian future is so realistic that it's scary."
– Two Nerds Talking
"This book does a fantastic job setting up for a fast-paced sci-fi thriller series that is brimming with potential, and you really can't ask for much more."
– Bibliosanctum
"This page-turner is a riveting, gratifying read."
– Publishers Weekly, starred review
Wes himself has been getting around the internet too, chatting to the Tor/Forge blog about the Trauma of Time Travel and telling John Scalzi The Big Idea. If you'd like to see Wes in person, get your best sharpie to Mysterious Galaxy, San Diego for a signing on 12 July with Carrie Patel and Scott Sigler. Wes will also be appearing with Ramez Naam for a signing at the Elliott Bay Book Store on 15 July.
You can buy Time Salvager from all good bookstores in the UK/R.o.W from July 9. If you happen to live in the US, you can buy Time Salvager here from today.