Folks, there's going to be a treble bill down at Mysterious Galaxy, San Diego on Sunday night (July 12), and you should definitely be there.
Wesley Chu, Carrie Patel and New York Times best-selling novelist Scott Sigler will be all be reading from their respective books, signing copies and generally answering any questions you may want to ask.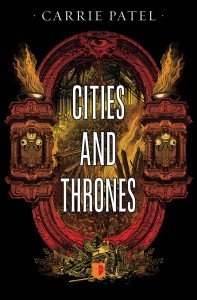 Carrie Patel, Cities & Thrones: In the fantastical, gaslit underground city of Recoletta, oligarchs from foreign states and revolutionaries from the farming communes vie for power in the wake of the city's coup. The dark, forbidden knowledge of how the city came to be founded has been released into the world for all to read, and now someone must pay.
Inspector Liesl Malone is on her toes, trying to keep the peace, and Arnault's spy ring is more active than ever. Has the city's increased access to knowledge put the citizens in even more danger? Allegiances change, long-held beliefs are adjusted, and things are about to get messy.
Cities And Thrones is the second novel in the Recoletta series, and follows on from The Buried Life.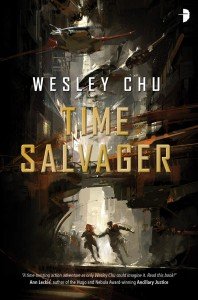 Wesley Chu, Time Salvager: In a future when Earth is a toxic, abandoned world and humanity has spread into the outer solar system to survive, the tightly controlled use of time travel holds the key to maintaining a fragile existence among the other planets and their moons. James Griffin-Mars is a chronman – a convicted criminal recruited for his unique psychological makeup to undertake the most dangerous job there is: missions into Earth's past to recover resources and treasure without altering the timeline. Most chronmen never reach old age, and James is reaching his breaking point.
On his final mission, James meets scientist Elise Kim, who is fated to die during the destruction of an oceanic rig. Against his training and common sense, James brings her back to the future with him, saving her life, but turning them both into fugitives. Remaining free means losing themselves in the wild and poisonous wastes of Earth, and discovering what hope may yet remain for humanity's home world.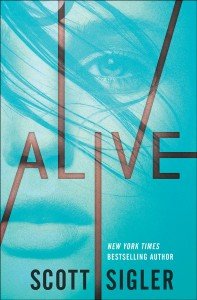 Scott Sigler, Alive: A teenage girl awakens to find herself trapped in a coffin. She has no idea who she is, where she is, or how she got there. Fighting her way free brings little relief—she discovers only a room lined with caskets and a handful of equally mystified survivors. Beyond their room lies a corridor filled with bones and dust, but no people . . . and no answers. She knows only one thing about herself—her name, M. Savage, which was engraved on the foot of her coffin—yet she finds herself in charge.
She is not the biggest among them, or the boldest, but for some reason the others trust her. Now, if they're to have any chance, she must get them to trust each other. Whatever the truth is, she is determined to find it and confront it. If she has to lead, she will make sure they survive. Maybe there's a way out, a rational explanation, and a fighting chance against the dangers to come.
Or, maybe a reality they cannot comprehend lies just beyond the next turn.
For more details of the event and to register your interest, visit the Facebook page, here.
Below is a handy little map to show you the location of Mysterious Galaxy, should you need it.