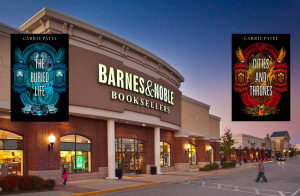 Grab your copies of the Recoletta series and your favourite sharpie, as Carrie Patel is heading to Barnes & Noble in Colombus, GA to sign copies of The Buried Life and Cities and Thrones.
You can register your interest in the event over on the Facebook page.
Carrie: "I'm pumped to hang out at the Columbus, GA Barnes & Noble this weekend! Stop by, say hello, and stay out of the heat!"
Turns out it's a tax holiday in Georgia, too, so we can see no better way to celebrate than by buying a huge heap of books.
Here's your handy little map with directions to get to the store: