Howdy Roboteers,
We have lots to tell you about this week, including a movie deal, award shortlist and tour! 
Rod Duncan Mini-Tour
Rod Duncan is not one to sit on his laurels after the publication of Unseemly Science last month. Over the next couple of months he has a plethora of appearances around the midlands, of which you can see here:
Tuesday 16 June: Chesterfield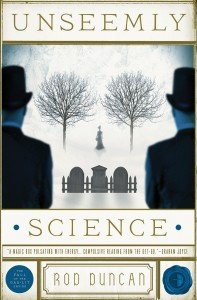 Rod will be holding a workshop for local group, the Open Book Writers.
Thursday 18 June, 7.30pm: West Bridgford Library, Nottingham
After his nomination for the East Midlands Book Award, Rod will be attending a showcase evening with the other shortlisted nominees to talk about Unseemly Science.
Saturday 27 June, 10.45am: Phoenix Square, Leicester
Leicester Writer's Festival have invited Rod to deliver a keynote speech reflecting on his writing and sharing insights into a writer's life.
Saturday 27 June, 3-4pm: Lowdham Book Festival, Lowdhan
Enticingly entitled, 'Steampunk Time with Rod Duncan', Rod will be talking about Unseemly Science and the book's alternate history and Steampunk leanings.
Tuesday 30 June: Bromley House Library, Nottingham
Rod will be attending the sparkling East Midlands Book Award ceremony to (hopefully) claim his prize. Or at least enjoy himself at the buffet.
Saturday 11 July: The Quad, Derby
Rod will be at Edge Lit Festival in Derby. The programme hasn't been finalised for appearances at the time of posting this article, so please keep up with all of the information here.
It's always good to support your local author, so if you're in the area make sure to pop along to one, or more, of these great events and say hello to the man himself!
If you haven't managed to catch up with the second novel in the Fall of the Gas Lit Empire series, then here's a flavour of what the critics have been saying:"It's darker and creepier than the first novel, a little less straight up action-adventure and a little more gradually building tension, but that worked. A thoroughly worthy sequel."
– Lulu's Bookshelf
"Every element in Unseemly Science make this book a terrific addition to The Fall of the Gas-Lit Empire series. With Unseemly Science Rod Duncan ventures into a new direction when it comes to the setting of the book, it is darker it is grimmer and I think that with the third book it might become even more so, as the world that Elizabeth lives in, is on the brink of a change, of a revolution. The world that Rod Duncan showed in the first book is is greatly built upon and explored further. Just as with the world, Rod Duncan neatly keeps on developing his characters to the fullest and makes them even more lovable. Rod Duncan is definitely on the right track with this series."
– The Book Plank
"Rod Duncan weaves a fascinating tale. The plot is complex, but the various threads of the story can be followed, though their conclusion can't be guessed."
– Geeky Library
"5 out of 5 stars with a high recommendation to anyone who has read the first book of the series.  If not, I would definitely recommend they be read in order. Great for fans of Steampunk, character and plot-driven stories, alternate history, mystery, or a well-written adventure tale."
– Yvette at Bookworlder
"If you're looking for a female character with spunk, you can't find any better than Elizabeth."
Books, Bones & Buffy
"I didn't predict the twists that Unseemly Science threw at me. Not only is this book much darker than its predecessor, it also keeps you in more suspense, which is a feat considering I compared The Bullet-Catcher's Daughter to a spy novel. 4.5 of 5 Stars for a sequel that takes a macabre turn!"
– Victorian Soul Critiques
The Mirror Empire Shortlisted for a Gemmell Award
You *might* have heard us mention that The Mirror Empire by Kameron Hurley has been nominated for the Morningstar Award at the Gemmell's. Forgive us; we're just really excited!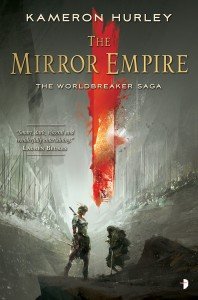 If you'd like to vote for Kameron you can vote right here, with just a simple click. Then tell all of your friends, family and that guy down the street to vote, too.
Need convincing? You can read an excerpt of the The Mirror Empire, here.
Here's what the critics had to say about the novel:
"Hurley (Rapture) reuses old tropes to excellent effect, interweaving them with original elements to create a world that will fascinate and delight her established fans and appeal to newcomers. Readers will blaze through this opening instalment and eagerly await the promised sequel."
– Publishers Weekly
"This is a hugely ambitious work, bloody and violent, with interestingly gender-flipped politics and a host of factions to keep straight, as points of view switch often. Although it is a challenging read, the strong narrative thread in this new series from Hurley (God's War) pulls readers through the imaginative tangle of multiple worlds and histories colliding."
– Library Journal
"In the two worlds of The Mirror Empire, we get Deadly Plants, Blood Magic, and yes, Brutal Women. The Mirror Empire is both a chance for fantasy fans to get to know Hurley's writing, and for previous fans of her work to see what she can do in a new vein. And for readers new to her work, this is in many ways the best place to start. 4.5****/5."
– Paul Weimer, SF Signal
"With her new epic fantasy series, Hurley has shown that she is no one trick pony. The Mirror Empire is a fresh, vigorous, and gripping entrant into the epic fantasy genre, able to stand toe-to-toe with any of the heavyweight series out there."
– SF Revu
"The Mirror Empire is the most original fantasy I've read in a long time, set in a world full of new ideas, expanding the horizons of the genre. A complex and intricate book full of elegant ideas and finely-drawn characters."
– Adrian Tchaikovsky, author of The Shadows of the Apt series and finalist for the 2014 Gemmell Legend Award
Time Salvager Movie Deal
Before even hitting the shelves, Wesley Chu's Time Salvager has been optioned for a movie! And who will be directing, we hear you ask? Only one of the biggest names in the big-budget action flick genre, Michael Bay – yes, he of Transformers, Armageddon and Pearl Harbour fame!
We're really excited for both the movie and the release of the book, which will be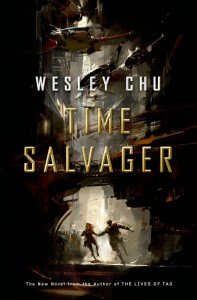 available to UK/Commonwealth from 9 July. If you fancy a sneak peak at chapter one, just click here.
We're sure you're all itching to read the book after that, but we'll give you some reviews too, as we're nice like that:
"Chu creates a fascinating world, strange and familiar, infused with humor, sorrow, courage, greed, and sacrifice. This page-turner is a riveting, gratifying read."
– Publisher's Weekly, starred review
"More than a compelling, innovative take on the perks and pitfalls of time travel – Time Salvager is a sharp study of how human nature might prove mankind's salvation, or eventually doom us all. This is world-building that will make you fear for the future. In a good way."
– Cherie Priest, author of Maplecroft
"From its early pages, Time Salvager establishes itself as an utterly captivating time-travel adventure. To put it simply, Chu's worldbuilding is extraordinary. There's a grim believability in his vision of a decaying Earth, and the comm/atmos/exo bands make for vivid, easy-to-imagine tech. Plus, Chu neatly (and humorously) avoids getting bogged down in explanations of the physics of time travel. But even beyond all this, Chu explores the emotional truth of the pain and regret that haunts James as he gives the past — and its people — up for lost."
– Regina Small of RT Book Reviews
"A fast-paced ride that offers a fresh spin on time travel, combines it with a high-stakes plot and genuinely innovative action, and spices the blend with a healthy dose of irreverent humor."
– Jacqueline Carey, author of Kushiel's Dart
That's all for this week, folks! Tune in next time for more info on some of the best SF, F and WTF?! books around.