We're proud, overjoyed, excited and delighted to announce that Kameron Hurley's The Mirror Empire has been shortlisted in the Gemmell Awards.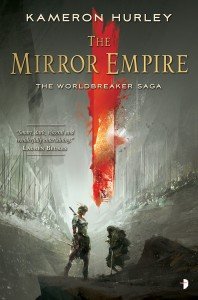 The award, named Morningstar after one of David Gemmell's bestselling novels, is awarded for the best debut in fantasy fiction.
Kameron
: "I was incredibly pleased to find
The Mirror Empire
on the Gemmell Morningstar shortlist with some amazing company. Thanks so much to all the passionate fans who voted for it! It's fabulous news to get here with just a few more months to go before the sequel,
Empire Ascendant
 comes out in October. Sentient plants 4ever."
Voting is very simple, just click
here
 and choose
The Mirror Empire
. We don't mind who you vote for in the Legend or Ravenheart award…go crazy, pick who you like. The important thing is you click on Kameron's name for the Morningstar Award. Follow the link, vote, submit. Easy! The Gemmell Awards are not balloted, so you don't have to worry about signing up or paying to make your voice heard.
The winner will be announced at the Gemmell Awards at
Nine Worlds
in London on Saturday, August 8. Good luck to all!