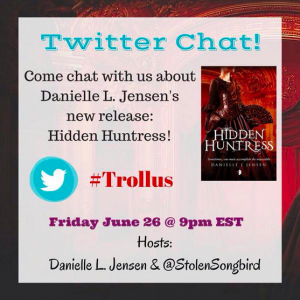 If you love Stolen Songbird and Hidden Huntress and have, like us, a whole heap of questions about Cecile, Tristan and Trollus then this Friday, 26 June at 9pm (EST) will give you the chance to ask them.
Danielle L. Jensen, author of the Malediction trilogy, will be taking to Twitter to answer all of your burning questions and maybe impart a little bit of knowledge about the third book in the series, Warrior Witch.
The chat will be moderated by Melissa (@StolenSongbird). The hashtag will be #Trollus.
Prior to the chat, you might want to head over to GoodReads, where Danielle has just posted a deleted scene from Hidden Huntress! It involves Tristan, and will quite possibly make you love him even more.
If you want to join in the Twitter chat but aren't sure what to ask Danielle, then maybe some of these interviews and blog posts from the woman herself will inspire you:
Interview with My Bookish Ways (June 2015)
Interview with Addicted Readers (June 2015)
Guest post on Leanna.me (May 2015)
Interview with A Fantastical Librarian (May 2015)
Guest post at Books, Bones & Buffy (May 2015)
Interview with Bookish Whimsy (May 2015)
Guest post on Fantasy Cafe (April 2015)