Rod Duncan, author of the Fall of the Gas-Lit Empire series, will be holding a book launch for the highly anticipated second book in the series, Unseemly Science, on Thursday 21 May.
The book has been setting the critics' pens alight over the past few weeks and the launch will give fans, friends and writers the unique experience to chat with Rod about his inspiration, great world-building ability and his thoughts for the next book.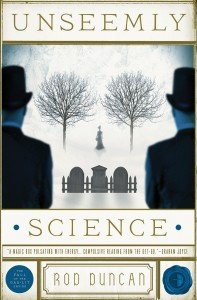 The evening will see Robot Overlord Marc Gascoigne give a short chat on alternate history, followed by a reading and Q&A session with Rod. There will also be a chance to purchase a signed copy of the book, or seven.
Rod: "The phrase 'book launch' sounds a bit serious. I'd like this to be more of a 'book birthday party'. A get-together for readers, writers and fans of peculiar history. It is an open event, so I'm hoping to meet people and make new friends. All are welcome."
Refreshments will be provided.
For more information, or to register your interest, visit the Facebook event page.
Below is a handy Google map, to guide you to the right destination.