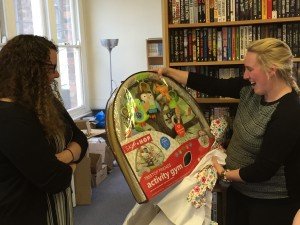 It's something of a bittersweet day here on the otherwise empty flight deck of our orbital leviathan. Our lovely colleague Caroline Lambe (right) is leaving us, if only temporarily, to have her first baby. We shall miss both her massively capable wrangling of AR's promotions and publicity campaigns, and her occasional intimations that Ireland truly is the best country on earth, with equal sorrow. We love her and we'll miss her.
Obviously, even at this late stage we have attempted to encourage her and Will to name their firstborn after us, and she has at least pretended that they will consider Angstrom as a middle name. We live in hope.
We did the whole lunch and pressies thing on Tuesday, as the Robot crew – including the ever-smiling Penny (left), now handling all our promotions needs – are now scattered to the four corners, but today is our Caroline's last day for a year. So join us please as we bid her farewell, if only for a year, and wish her every happiness in the amazing adventure on which she's about to embark.