Marianne de Pierres, author of the Aurealis Award winning Peacemaker is venturing forth from her homeland, Australia, to attend her first non-Antipodean book convention.
This year Marianne will be meeting and greeting you all at World Fantasy Con, held in Saratoga Springs NY, USA from the 5 – 8 Nov.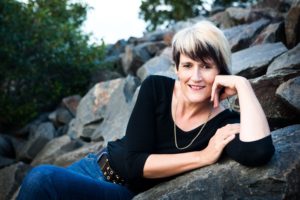 Marianne: "I've been wanting to attend WFC for nearly twenty years. It will be my first ever overseas convention (outside a trip to New Zealand), and I'm ridiculously excited about it. I'll be the tall Aussie woman with the pink hair. Come and say hello!"
If you are a native of Australia, then fret not. You can also catch up with Marianne at Supanova on the Gold Coast (17 – 19 April) or Genrecon in Brisbane  (30 Oct – 1 Nov).
Others from the Robot Army will be attending World Fantasy Con including Carrie Patel, Alyc Helms and Mike Underwood. We're a notoriously friendly bunch, so we'll be milling around just waiting for you to come and give us a high five/buy us a drink. We're looking forward to seeing you all there!