Twitter was awash with the glow of troll-light and the whisperings of an ancient city named #Trollus on Sunday night, as author Danielle L. Jensen joined a Twitter chat to answer her fans' burning questions.
Afterwards, we had a quick chat with Danielle about how awesome it was to talk with her fans from across the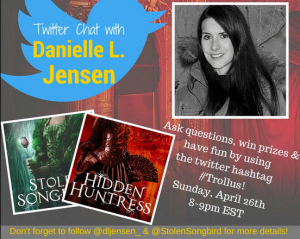 world: "The Twitter chat was great fun – I plan to do it again after Hidden Huntress hits shelves, but at an earlier time so people in Europe can participate. The host @stolensongbird is Melissa Robles @MeliRobles, who is a student in Mexico. She's been a wonderful supporter of my books.
There were lots of great questions, and I even had fans up in the middle of the night to participate. @Shynasss  is in France, and it was 4am when she finally signed off! So wonderful to chat with people who love my books."
Below are just a couple of our favourite tweets from the event, but if you want to find out more, including why Danielle has a jar full of her fans' tears, then search #Trollus on Twitter.
Can you describe The Malediction Trilogy in five words? @dljensen_ @StolenSongbird #Trollus

— Rachmi Febrianty (@RachFebrianty) April 27, 2015
Hi! @dljensen_ I absolutely loved @StolenSongbird and I was wondering if the parallels to Beauty and the Beast were intentional. #trollus

— Cecilia (@ChaoticRambler) April 27, 2015
do you already know how the third book will end? 🙂 #Trollus

— eri (@airyreads) April 27, 2015
The King seems like pure evil, do you think he has any redeeming characteristics? #Trollus

— Eileen (@BookCatPin) April 27, 2015
@dljensen_ @StolenSongbird It's 4am here I stay awake just to be here. Didn't regret it. Thank you to both of you. See you! #Trollus

— Miss (@Shynasss) April 27, 2015
That's all folks. Thanks so much for joining. We'll be having more giveaways soon so stay tuned. 😉 #Trollus

— The Broken Ones (@StolenSongbird) April 27, 2015
Twitter chat last night was so much fun! Will be doing another one after #HiddenHuntress releases! #Trollus

— Danielle L. Jensen (@dljensen_) April 27, 2015