Some of our more eagle-eyed readers may have already spotted the name, Penny, floating around on blog posts; Penny has been interning with us since February but I am delighted to introduce her now as our newest team member.
Starting immediately for a handover period, Penny has joined as maternity cover for my role as Publicity Manager. I will be finishing up on Friday, 29 May, but until then Penny and I will be promoting all that is strange and wonderful about Angry Robot Books, our authors, and, of course, books!
Penny comes to us from a public relations background and is also the community editor for LeftLion magazine, a Nottingham culture magazine. She has wonderful experience with all things publicity and I've no doubt will be a great addition to our team.
Her official bio reads thusly: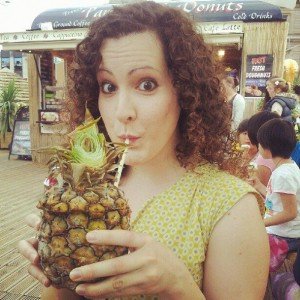 Penny started her working life dealing with criminals but quickly realised that the novels of Tom Robbins suited her tastes, rather than those of Fyodor Dostoyevsky, so she left to spend the next few years roaming the world teaching children and Tibetan monks the English language.
On returning to the UK, Penny took up a public relations job and worked for used cooking oil, potatoes and retail. However the lure of the Robot Overlords was too much for her and, pulled in by their gravitational force Penny took up an internship. The rest, as they say, is history.
Reach her through Twitter here and at penny.reeve@angryrobotbooks.com