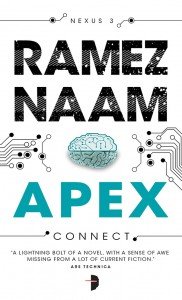 Dear Robot Readers!
We're all eagerly anticipating Ramez Naam's Apex, the conclusion of the fan favorite and critical darling Nexus Arc, due on May 5th in North America in Trade Paperback and ebook world-wide.
The ebook will be arriving as scheduled on May 5th, but due to the technological and literal heft of the novel, the North American trade paperback edition of Apex will be released on May 12th, one week later than anticipated. If you've already ordered the paperback, do not worry! All pre-orders will be honored and filled as soon as possible, and some bookstores may still receive the book by or on the 5th. With the production delay due to the book's size, we just couldn't guarantee that 100% of stores would receive the book in time to release on the 5th. Our most sincere apologies to anyone inconvenienced by this delay – upgrading humanity's potential is not always the easiest process to bring to fruition, as readers of the series well know.
But even better than an apology is a contest! Anyone and everyone who finds paperback copies of Apex in the wild should take a picture with the book and tweet it @Angryrobotbooks on Twitter or post the image here in the comments of this post. Any such picture sent by May 20th will be entered for the chance to win a free ebook copy of Apex to accompany the paperback edition. Have your camera phones and integrated retinal cameras at the ready.
N.B. The UK release date of 7th May is unchanged. European efficiency at its finest!