Hey there Robot Readers,
It's Penny here, Angry Robot Books' brand new intern. Hope you're all well?
You might have heard that the Robot Overloads have been beavering away of late, searching out new authors and books for your pleasure. It's all been very exciting and we couldn't be more delighted that Angry Robot Books is back to full steam and ready to fill your bookshelves with all of the most brilliant SF, F and WTF? books around.
This month, we want to shout about a couple of titles that are currently garnering critical acclaim. In fact, they're so good both were mentioned on io9's The Science Fiction And Fantasy Books You Can't Afford To Miss In March. Pretty sweet, eh?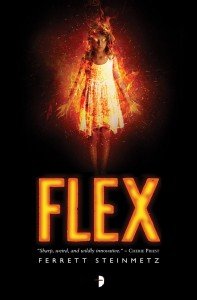 Firstly Ferrett Steinmetz – writer of the Nebula award winning novelette Sauerkraut Station, and he of "Dear Daughter: I Hope You Have Awesome Sex" viral blog fame – released his first full-length novel, Flex this month. We absolutely love Ferrett's take on bureaucracy and the dangers of unregulated magic and it seems that the critics do, too. You might have seen the buzz generated so far but here are a few of our favourite recent reviews:
"Do you like magic? Do you like drugs? Donut-based psychological theories? Video games?…Give it a read! It's great fun." – Ann Leckie, author of Ancillary Justice and winner of the Hugo, Nebula and Arthur C. Clarke Awards
"I don't like using exclamation points, but this book deserves all the exclamation points. Look, here's a whole bag! They are to be placed after the words Flex and awesome whenever they appear! Flex! Awesome! Flex! Awesome! Flex! You get the idea. The book's pacing was just right, the information drip satisfyingly steady but with enough mystery to keep me reading. I wanted to find out who would do what and how. I wanted to know who was going to win. I wanted to know about motivations. I wanted to see some more video game magic. I wanted to read it whenever I had time. If I end up writing a list of my ten favorite books from my last five year's reading, this book is probably going to be on it". – Book Punks
"Flex was an absolute delight to read, and my only real lament is that I can't cast some bureaucromancy of my own to conjure up the sequel right friggin' now". – Michael Patrick Hicks, author of Convergence and Amazon Breakthrough Novel Award quarterfinalist
"Ferrett takes the "people learn how to do magic, will they use it for good or ill?" question and blows it right open, exposing the soft underbelly of a society that first resorts to fear and violence when faced with something they don't understand. And I fricken' loved every word of it. The magic is weird and soul-crushingly expensive, the characters are fantastic, the stakes are high, and the story is intimate. That my friends, is what I'm always looking for. Ferrett Steinmetz? the guy is a Wordmancer." – Little Red Reviewer
"This world is amazing – just the idea that an obsession can bend reality enough to create magic is a brilliant one…The idea on its own brings something fresh to urban fantasy, and was enough on its own to draw me into the book. Steinmetz brings something new and fresh to the genre". – Stephanie Gunn, writer for ASIF and judge of the Australian Shadows Awards
"I loved Flex. All the thumbs up and all the stars checked." – I, Fat Robot
"Reading Flex is like ingesting a solid dose of some seriously bad-ass magic. The world comes to life, possibilities that you hadn't thought of suddenly present themselves, you find yourself immersed in words that portray a familiar, but yet much more magical world. Flex is in some ways, reminiscent of Breaking Bad with a Ready Player One slant but with an added twist all its own". – Tenacious Reader
GIVEAWAYS:
If you fancy winning your own ebook of Ferrett's Flex, head on over to the awesome SF Signal for your chance to get your mitts on a copy of the book. The mag has also written up a great interview with Ferrett, which you can see here.
Dirge Magazine is also offering one lucky winner the chance to get their hands on a copy of Flex just by signing up to its mailing list.
Not content with releasing a fantastic book, Ferrett has also been flexing *groan* his prose muscles with a host of interviews, musings and podcasts. Here are a few we recommend you read/listen to:
SF Fiction
Shimmerzine
Whatever: The Big Idea
Five Books with Snarky Sidekicks
Rocket Talk
So What's It Like to Have Your Book Released?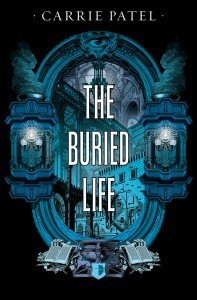 Our second book capturing the hearts and minds of critics is The Buried Life by Carrie Patel.
LAUNCH:
Carrie is currently publicising the book and, as you know, all good publicity tours start with a launch. So if you happen to live in San Diego, make sure to pop by Mysterious Galaxy Books on 7 March at 2pm as Carrie will be having a signing session. If you can't make the signing, then take a look at this collection of interviews, excerpts and writings from Carrie, below, which is almost as good as meeting her in person.
Book Bites
My Superpower
SF Signal
Eating Authors
The Fire in our Heads
The Buried Life has some great reviews, below, which will have you clamouring to get a copy of the book, released in the UK just yesterday! If you haven't read/bought it yet, make sure to enter Popcorn Books' competition to win your very own copy. The Buried Life is included in Niall Alexander's British Fiction Hitlist for March, and you can see the full listing here.
"Her writing exudes an engaging confidence that makes The Buried Life hard to put down. Patel also shows a gift for pithy dialogue, and her two female leads are both resilient although in different ways". – SciFi Now
"I've had my eye on The Buried Life by Carrie Patel (Angry Robot) for a while now, ever since it came up on one of my recommendations lists. I admit that the cover drew me in, but the summary is what held my interest. Murder investigations in a vast underground dystopia? I'm game". – Lit Reactor
"The Buried Life is one of those books where you get much more than you had bargained for. Carrie Patel introduces the reader to a very interesting world, which besides several explanations only raises many more questions. The whole setting of the book is cleverly build by mixing up several of the established genres, Carrie Patel has created a very unique and intriguing blend. The Buried Life is a high recommendation, you don't come by these types of books very often, great reading stuff." – The Book Plank
"The Buried Life excels on many levels, quite apart from its presentation of strong female characters: it's a cracking whodunnit with sufficient twists and turns to make Agatha Christie proud, a vivid portrayal of a vibrant multicultural society, and an intriguing love story." – The Guardian
"If you love Steampunk, or Urban Fantasy, grab this book. If you love Post-Apocalyptic Rebuilt Civilizations, grab this book. If you love Empowered Female Protagonists, grab this book. And if you love a well-written, enticing story with a great reader's hook, well of course, grab this book! I loved it! It's a re-reader and I can't wait for more from the author Carrie Patel". – Mallory Heart Reviews

"The Buried Life artfully sets a who-dunit murder mystery in a dystopian underground city filled with dark politics and foul secrets. It's a gripping read from start to finish, with two clever female leads and a delightfully colorful cast. More, please!" – Beth Cato, author of The Clockwork Dagger
That's it for your round-up this month. Keep your eyes peeled and that index finger hitting that refresh button as we'll be back with more exciting news soon.
Over and out.