Good day Roboteers,
Hope you're all well?
We're well into spring already, and with the freshest of new seasons we bring you our fresh new April offerings.
The Rebirths of Tao – Wesley Chu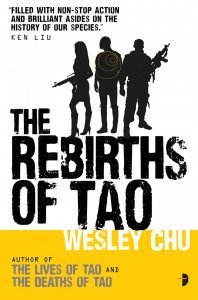 The Rebirths of Tao is the *sniff* final instalment in Wesley Chu's Tao trilogy and sees the Earth divided into two sides, pro-Genjix and pro-Prophus. A Genjix scientist has defected and he's the only thing standing between peace and a war the likes of which never seen before.
We're so excited about the release of the final book, but also really sad, as such a great trilogy is coming to an end. Fear not though, as Wesley is currently hitting the keys on another novel, The Rise of Io, set in the same world as the Tao trilogy, set for publication in Spring 2016!
Rebirths is released on 2 April in the UK/R.o.W and America on 7 April.
Here's what the critics have to say, so far:
"Every time I identify a geek who I think would appreciate a James Bond spy novel with a b-movie alien twist and a healthy amount of Star Wars references, I do everything I can to make sure they read this series. This may involve minor threats and pressing said book into their hands."
– Geeky Library
"…Not only is Rebirths of Tao jam-packed with action and espionage, it's hilarious to boot.  Chu has a great sense of humour and uses it to great effect in both breaking tension and entertaining his audience."
– Read Every Thing
"Just your usual 'I've got an immensely wise alien in my head who wants me to become and international man of mystery' story. Which is to say, Page-turning homage to other classic SF like Hal Clement's Needle. Recommended."
– Steven Gould, author of the Jumpers series
In case you haven't been party to the Lives trilogy thus far, we thought we'd remind you of the praise Wesley received for the previous two books in the series:
The Lives of Tao:
"Few books begin more engagingly than The Lives of Tao, a science fiction romp which wears its principal strength — the wit and humor of the narrative voice — on its sleeve."
– Huffington Post
"The Lives of Tao marvelously casts all of war, science, politics, religion, and economics into a stark new light. It switches well between action-packed scenes and philosophical discussions about human nature and the pitfalls of manipulation, even guided by the best of intents."
– Josh at Examiner.com
"By the end of the books I was close to tears, which proves my emotional investment in the characters and their fates. I wish every book made me care about the characters as much as The Lives of Tao."
– I Will Read Books
The Deaths of Tao:
"Chu knows how to blend humor, thrills, terror and romantic angst into one entertaining package, and I can't wait for more."
– Books, Bones, & Buffy
"Wesley Chu brings just the right amount of comic-book style to a setting of serious sci-fi blended well with secret-agent thriller action, and all starring a reluctant hero everyone will love. It's a stellar combination!"
– Popcorn Reads
"The Deaths of Tao is one great sequel, firmly establishing Wesley Chu as one of the hottest writers in science fiction today."
– Upcoming4.me
With praise like that, we're seriously excited for the release of Rebirths of Tao. And don't worry, we'll keep you posted with all of the Rebirth reviews as and when they happen.

Dream Stalkers – Tim Waggoner
The second title in his Shadow Watch series, Tim Waggoner is set to reawaken your fear of clowns once more with Dream Stalkers, which sees the return of terrifying Mr Jinx and his partner, Audra.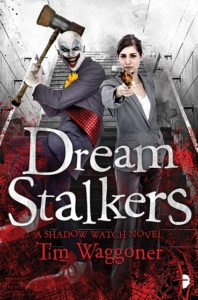 This time the pair have to deal with a group of ancient Incubi, while preparing new recruits to the Shadow Watch to deal with a new drug, Shut Eye.
Here's what the critics had to say about the first book in the series, Night Terrors:
"Major props for Waggoner to integrate tangible entities normal readers might get spooked by: spiders, darkness, the candy man, snakes, …ninjas? Most of these incubi characters were uniquely created and cleverly described using the reigns of the world to support the plot."
– Thoughts and Afterthoughts 
"I could tell I REALLY REALLY loved Night Terrors because when I finished it and tried to write up my immediate thoughts on Goodreads – I ended up trying to describe Waggoner's whole universe he's created. His whole creeptastic, genius, maniacal, supernatural world – one that I wouldn't necessary want to take a stroll through unless I had a demon dog with me, but it captivated me all the same. It fascinated me.. it pulled me in and literally almost didn't let go. I find myself still thinking about it…"
– My Shelf Confessions
I cannot tell you how much out of my comfort zone I was when I decided to read this book. Horror has never been and, I thought, will never be my thing. Until I chose to read this book and I am so glad I did. I loved it and I cannot wait to read the next n the series. The book starts in fast mode and does not relent for one moment. It keeps you in its grip and does not let go, until you have reached the last page. It was an amazing read.
– Open Book Society
Crux – Ramez Naam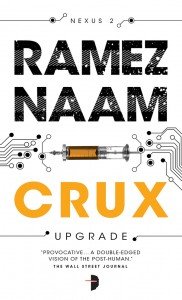 You lucky, lucky, Americans. Crux, the second in Ramez Naam's Nexus trilogy will be re-released in the U.S ahead of the final installment of the series, Apex, being released in May. It's got a pretty great new cover, too, which will make any bookshelf look fabulous – and very sci-fi.
Here's a brief glimpse at what some of the literary world had to say about Crux the first time around:
"A brilliant book, full of mind-blowing tech drawn in highly believable fashion. Naam's action sequences carry a
brutal intensity, and every time you think he'll finally let you breathe the stakes rise even higher."
– Jason M. Hough, New York Times best-selling author of The Darwin Elevator
"Sublime. This book is speculative fiction at its finest. Mr Naam masterfully mobilizes the zeitgeist of contemporary political and tech culture … Tempts readers with equal parts dread and optimism. This is not a book to be missed."
– Page of Reviews
"A worthy sequel that reads like a mash-up of Michael Crichton and Tom Clancy, Naam's cyberpunk thriller is even better than the original."
– SF Signal
Award Nomination
We also wanted to give  a quick verbal high-five to Rod Duncan, who has been nominated for a second award for his novel The Bullet Catcher's Daughter.
This time it's an East Midlands Book Award (EMBA), which recognises talent from across middle-England. The winner will be announced on 30th June in Nottingham, so keep your fingers crossed until then!
That's all for now, folks but we'll be back soon with more tantalising titles and noteworthy news soon. Have a great week!
Over and out.