Good afternoon Robot fans,
Eeek, it's Friday 13th again tomorrow! Why tempt fate by leaving the house? We recommend you avoid ladders, black cats and the peril of meeting your doppelgänger and instead spend the day under the covers with a cup of (not too hot) tea and a good book. Just maybe skip page 13.
This week we're getting very excited about the last in Wesley Chu's popular Tao trilogy, The Rebirths of Tao, which is released on 2nd April (UK) and 7th April (USA).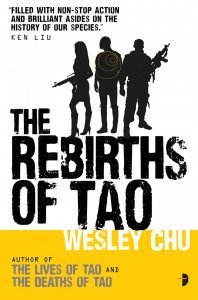 Here's the cover blurb to whet your appetite…
Many years have passed since the events in The Deaths of Tao: the world is split into pro-Prophus and pro-Genjix factions, and is poised on the edge of a devastating new World War; the Prophus are hiding; and Roen has a family to take care of.
A Genjix scientist who defects to the other side holds the key to preventing bloodshed on an almost unimaginable scale.
With the might of the Genjix in active pursuit, Roen is the only person who can help him save the world, and the Quasing race, too.
And you thought you were having a stressful day…
Exciting, right? We'll be piled up with reviews in the very near future, so look forward to reading those. We realise it might have been a while since you read Lives and/or Deaths of Tao, so here's a quick round up of what the critics had to say about them:
Praise for The Lives of Tao: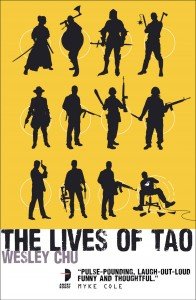 "This doesn't seem like Chu's first book, he writes with panache, skill and confidence. His action scenes feel authentic, his world is intricate and believable, and he tells his story in a compelling manner that keeps you turning pages".
– Irresponsible Reader
"Wes Chu's Lives of Tao should absolutely be high up on your list of books to read next. Now if you'll excuse me I'll be off reading the sequel. Despite the fact that it's past 1:00 AM here".
– Serial Bookseller
"The Lives of Tao marvellously casts all of war, science, politics, religion, and economics into a stark new light. It switches well between action-packed scenes and philosophical discussions about human nature and the pitfalls of manipulation, even guided by the best of intents."
– Josh at Examiner.com
Praise for The Deaths of Tao: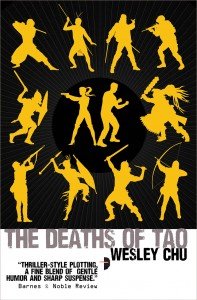 "A first-rate science fiction thriller with non-stop action, an evil baddie who scared even me, full of well-timed humorous banter, with an intriguing and unique concept of alien invasion".
– Books, Bones & Buffy

"Wesley Chu brings just the right amount of comic-book style to a setting of serious sci-fi blended well with secret-agent thriller action, and all starring a reluctant hero weveryone will love. It's a stellar combination!"
– Popcorn Reads
"The Deaths of Tao is as funny, loveable and entertaining as the first book, and adds even more depth to the characters, story and themes. With some major changes taking place towards the end of the book (and one heck of a must-know-what-happens-next ending), I'm really looking forward to seeing where the author takes us next!"
– Fantasy Faction
So if you haven't read Lives and/or Deaths yet, we really recommend that you do so. Trust us, you won't regret it.
That's it from us this week but we'll be back next time with some more exciting news and a whole host of fabulous reviews.
Have a great week!
Over and out.