Angry Robot's Open Door – our occasional unagented submission system – has brought some wonderful authors to our stable such as Wesley Chu, Cassandra Rose Clarke, and Lee Battersby. Today, we are delighted to announce that we have a new Angry Robot author, Peter McLean, who has come to us through these very doors.
Peter's Drake – the first title in the Burned Man series – centres on a demon-summoning hit-man and a murderous, chain-smoking angel who must battle Furies and the Devil himself in a search for redemption. Set in modern-day London, Drake is a tale of spell casting and shot guns, where Guy Ritchie meets Jim Butcher, and will be published in January 2016.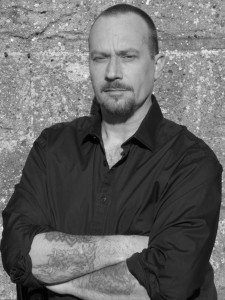 London-born Peter grew up in the Norwich alternative scene, alternating dingy nightclubs with studying martial arts and practical magic. He has since grown up a bit, if not a lot, and is married to Diane and is still making up stories.
Peter McLean: "I'm absolutely thrilled that Drake will be coming out from Angry Robot. I am now living proof that the legendary Open Door is a real thing and not just a mean trick that angry robots like to play on aspiring writers. Oh, and any editor you first speak to in a Twitter discussion about Ministry is a guy I can't wait to work with."
Phil Jourdan: "Ladies and gentlemen, meet your new favourite slightly drunk and foul-mouthed dark magic-summoning hero with a conscience. We love taking chances on new authors and it's manuscripts like Drake that get us all excited. Onward!"
Drake
Hitman Don Drake owes a gambling debt to a demon. Forced to carry out one more assassination to clear his debt, Don unwittingly kills an innocent child and brings the Furies of Greek myth down upon himself. Rescued by an almost-fallen angel called Trixie, Don and his magical accomplice The Burned Man, an imprisoned archdemon, are forced to deal with Lucifer himself whilst battling a powerful evil magician. Now Don must foil Lucifer's plan to complete Trixie's fall and save her soul whilst preventing the Burned Man from breaking free from captivity and wreaking havoc on the entire world.
Gather around and welcome Peter to our motley crew, here on Twitter or Facebook, and check out his website, Talonwraith.