For months, the Angry Robots have been working in secret, engineering better, stronger, more powerful publishing schemes. We've been patient, turning uncertainty into dedication, conscripting world-class talent into the Robot Collective.
But now, the time has come to reveal our new plans for World Domination!
That's right, Angry Robot's back, with two debut novels and a Mass Market re-release of one of our most critically-lauded books, all on sale in the US and CAN today.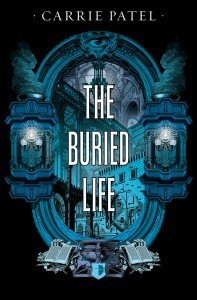 THE BURIED LIFE by Carrie Patel
At long last! Welcome to the mysterious caverns and halls of Recoletta, an underground city with secrets to spare.
Here's what people are saying about The Buried Life:
"With Regency-era sensibilities and Agatha Christie's flair for the subtle conundrum, Patel's debut novel introduces readers to a subterranean city of the future, centuries after what is dubbed 'The Catastrophe', and beautifully manages the delicate balance between entertainment and social commentary. The subtly fantastical story is resplendent with surprisingly deep villains, political corruption, and a gripping whodunit feel."
– Starred Review, Publishers Weekly
"The Buried Life is a dark, imaginative steampunk gem – tailor-made for mystery fans and history nerds alike, with plenty of cops-and-robbers to keep you on your toes. This is a very fine contribution to the genre."
– Cherie Priest, author of Boneshaker and Maplecroft
"The Buried Life excels on many levels, quite apart from its presentation of strong female characters: it's a cracking whodunnit with sufficient twists and turns to make Agatha Christie proud, a vivid portrayal of a vibrant multicultural society, and an intriguing love story."
– The Guardian
"Vaguely steampunk-ish but not quite classifiable, The Buried Life is recommended for readers comfortable straddling the border of fantasy and sci-fi; dedicated fantasists and hard sci-fi fans may want to go down another hole."
– Books, Brains, and Beer
"This was a really interesting book. To me it was like the love child of a Steampunk and a Dystopian. Seriously. The setting was fascinating — an underground city, a group of rulers that are more dictators than anything, societal rules, and, of course, murder and mayhem. This book took off running. It was fast paced with a hell of a lot of action — which, coupled with the setting, was right up my alley. And on top of the murders and guns and all that, there were also some interesting characters. The main characters here were all quite fascinating — nuanced, layered, realistic. The world and the characters were fascinating, the plot was fast-paced and action-packed. It was a great read."
– In Case of Survival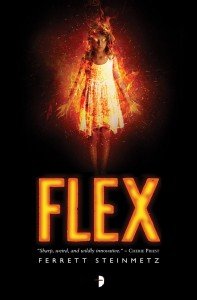 It's Breaking Bad by way of Scott Pilgrim in this inventive and heart-pounding modern fantasy.
Here's a tiny dose of the early praise for FLEX:
"Amazing. I have literally never read a book like this. Read this NOW, if only to be forced to turn the page wondering what the hell Steinmetz is going to come up with next."
– Mur Lafferty, Campbell award-winning "Best New Writer 2013″ and author of The Shambling Guide to New York
"Flex is hot, inventive, and exciting.  A real joyride of a story … a whole new kind of magic and a whole new ballgame. Totally recommended."
– Seanan McGuire, winner of the John W. Campbell Award and Hugo-nominated author
"Big ideas, epic thrills, and an unlikely paper-pushing hero you'll never forget. Just when you think you know what's next, the book levels up spectacularly."
– John Scott Tynes, author of Delta Green: Strange Authorities
"Featuring one of the most original magic systems ever devised and a pair of likable, layered protagonists, Flex is a fast-paced, imaginative, and emotionally engaging adventure. The developing friendships and rapport among the characters are portrayed with sensitivity and avoids cliches, and the magical battle sequences are rigorous and filled with ingenious touches that will make gamers and tax lawyers alike grin with joy."
– Ken Liu, winner of the Nebula, Hugo, and World Fantasy Awards
"Flex is a breath of magical, drug-addled, emotionally tortured fresh air, with one of the most unique and fascinating main characters I've read in ages. In an urban fantasy genre filled with handsome vampires and sassy witches, Ferrett presents us with Paul Tsabo – a Greek insurance adjuster with a prosthetic foot, forced into the half-mad underworld of a reality-bending narcotic to save his daughter from a devastating house fire. With great characters, evocative writing, and boundless creativity, Flex is one of the strongest debut novels I've ever seen, and one of my favorite novels of the year."
– Dan Wells, author of I Am Not a Serial Killer
"Half part Breaking Bad and half part urban fantasy, Flex is an enthusiastic romp through a world of ingenious magic accessed by geeky, obsessive projection. Tremendously entertaining rule-tinkering and loophole-hunts abound. A terrific read."
– Robert Jackson Bennett, author of American Elsewhere
And certainly not least, any loyal Angry Robot servant fan knows Ramez Naam and his award-winning SF Thriller NEXUS. Now available in a slick Mass Market edition in the US and CAN, it's a new chance to upgrade your reading life. The MM edition of CRUX is due in April, leading up to APEX, the explosive conclusion to the Nexus Arc.
In case you'd forgotten, here's some of the awards acclaim and praise for NEXUS:
Joint winner of the Prometheus Award 2014
Shortlisted for the Arthur C Clarke Award 2014
Shortlisted for the Kitchies Award 2014
"Ramez Naam's debut novel Nexus is a superbly plotted high-tension technothriller about a War-on-Drugs-style crackdown on brain/computer interfaces … full of delicious, thoughtful moral ambiguity … excellent spycraft, kick-ass action scenes, and a chilling look at a future cold war over technology and ideology, making a hell of a read."
– Cory Doctorow, BoingBoing
"It's good. Scary good. Take a chance and stop reading now and have a great time reading a bleeding edge technical thriller that is full of surprises."
– James Floyd Kelly, Wired.com's GeekDad blog
"a fast, fun read which is both emotionally engaging and thought-provoking. You'll be mulling over the implications of Nexus — the book and the drug — long after you put the book down."
– Annalee Newitz, IO9.com
"Naam displays a Michael Crichton-like ability to explain cutting-edge research via the medium of an airport techno-thriller."
– SFX Magazine
"the action scenes are crisp, the glimpses of future tech and culture are mesmerizing"
– Publishers Weekly
"Mr. Naam sees all the angles of future technology almost too imaginatively to keep up with …Nexus joins Paul McAuley's Fairyland (1995) as a double-edged vision of the post-human."
– Tom Shippey, Wall Street Journal