We are delighted to have shared with you our recent re-signings and new author deals. There are two new author announcements to come very soon, but today we are thrilled to tell you that James A. Moore will be writing two more books in his Seven Forges series, following Seven Forges and The Blasted Lands. Not only that but the next instalment, entitled City of Wonders, will be released this November, 2015. More details on City of Wonders below. James is a wonderful member of our Robot Family and we are excited to have his soul belong to continued involvement with Angry Robot Books.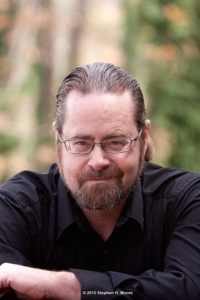 James A. Moore: "I am, of course, delighted to be working with my Robot Overlords once again. There have been rumors about them holding my family hostage through the negotiations and I want to make clear that nothing of the sort has happened. I am assured that the sudden disappearance of family members was merely a coincidence and not, as some AR authors have previously stated, a negotiating tool of any kind.
I have also been informed that so long as my manuscripts are delivered in a timely manner no more unexpected vacations to the "Lunar Gulag Wonderland" will be necessary."
Marc Gascoigne: "I'm so pleased that Jim has agreed to write not one but two more Seven Forges books for us at Angry Robot. Clever, action-stuffed fantasy like his is why I became a fanatical fantasy fan in the first place."
City of Wonders
Old Canhoon, the City of Wonders, is having a population explosion as refugees from Tyrne and Roathes alike try to escape the Sa'ba Taalor. All along the border between the Blasted Lands and the Fellein Empire armies clash and the most powerful empire in the world is pushed back toward the old Capital. From the far east the Pilgrim gathers an army of the faithful, heading for Old Canhoon and the growing masses of the lost and the desolate, on a mission of which he will not speak and looking for the faithful who will join him in his exodus.
In Old Canhoon itself the imperial family struggles against enemies old and new as the spies of their enemies begin removing threats to the gods of the Seven Forges and prepare the way for the invading armies of the Seven Kings. In the distant Taalor valley Andover Lashk continues his quest and must make a final decision, while at the Mounds, something inhuman is awakened and set free.
War is Here. Blood will flow and bodies will burn.