It's all go at Angry Robot HQ as we gear up for March and our publishing reboot. We're following yesterday's cover reveal for Craig Cormick's The Floating City with the cover for the first in Susan Murray's intriguing medieval fantasy series, The Waterborne Blade (May 2015). If you're a fan of Trudi Canavan, Karen Miller and Gail Z Martin, this epic fantasy title is for you, and you won't have long to wait for the sequel as The Waterborne Exile follows in August of this year.
With a hat tip to Paul Young at Artist Partners for this fantastic cover, we present The Waterborne Blade (click to enlarge):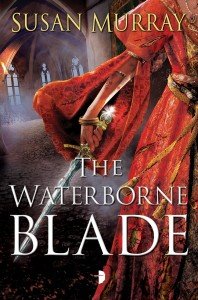 The citadel has long been the stronghold of Highkell. All that is about to change because the traitor, Vasic, is marching on the capital. Against her better judgement, Queen Alwenna allows herself to be spirited away by one of the Crown's most trusted servants, safe from the clutches of the throne's would-be usurper.
Fleeing across country, she quickly comes to learn that her pampered existence has ill-equipped her for survival away from the comforts of the court. Alwenna must toughen up, and fast, if she is even to make it to a place of safety. But she has an even loftier aim – for after dreaming of her husband's impending death, Alwenna knows she must turn around and head back to Highkell to save the land she loves, and the husband who adores her, or die in the attempt.
But Vasic the traitor is waiting. And this was all just as he planned.