We are delighted to announce our latest robot recruit in Adam Rakunas with his debut novel, Windswept. Acquired from Sam Morgan at JABberwocky Literary Agency, Windswept is the first in a two-book deal and will be released in September 2015. The as-yet-untitled sequel will follow in 2016.
Windswept stars Padma Mehta, a long-time labor organizer who is on the verge of making the deal of her life when it all falls apart. Now, she has to rely on the neighbourhood scam artist and a handful of stowaways to save her city, her planet, and Occupied Space — all before Happy Hour. With a host of well-crafted characters, Windswept is part detective story, part space operetta with snappy dialogue, futuristic adventure, and plenty of comedic timing.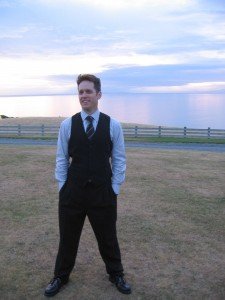 Adam Rakunas: "I'm stoked to join the assimilated masses at Angry Robot, especially after I was informed that the process no longer hurt as much as before. Some of my favorite books and authors have come from the digital mines of AR, and I'm honored that my little book about sex, violence, and labor relations will join them."
Phil Jourdan: "I was only a few pages into Windswept before I knew we had to take it on. Adam Rakunas has created one of the best ass-kicking protagonists around. He has mixed space travel with union politics and a deadly plague without ever sacrificing character and human warmth. He's also annoyingly good at one-liners."
Adam Rakunas has worked a variety of weird jobs. He's been a virtual world developer, a parking lot attendant, a triathlon race director, a fast food cashier, and an online marketing consultant. Now a stay-at-home dad, Adam splits his non-parenting time between writing, playing the cello, and political rabble-rousing. His stories have appeared in Futurismic and the Magazine of Fantasy and Science Fiction. Windswept is his first novel.
Fun fact: Adam was the bartender for Angry Robot's legendary robot-stuffed launch party back in 2009 at the Montreal WorldCon! Adam has been a member of our Robot Army for many years and it is extra special to celebrate this ladder-climbing step.
Join us in congratulating Adam; you can reach him online:
Twitter: @rakdaddy
Facebook: Adam Rakunas Books
Tumblr: rakdaddy
Website: Giro.org