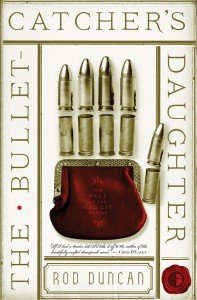 We're absolutely delighted to start 2015 with some awards news. Rod Duncan's superlative alternate history The Bullet-Catcher's Daughter has made the six-book shortlist for the Philip K Dick Award 2014.
When he'd come down from the ceiling, a joyous Rod Duncan said:
I had no idea that The Bullet-Catcher's Daughter was even in the running, so discovering it on the shortlist was a complete surprise. If you'll excuse the British slang – I was gobsmacked! To be standing alongside such wonderful writers and to be up for an award bearing the name of Philip K. Dick – it is a great honour. I feel hugely grateful.
The award's winner will be announced at Norweson in Seattle, USA on 3 April this year. Further details of that lovely shortlist – really, you should just buy all of them! – and everything else you need to know are on the Philip K Dick Award website. Rod's sequel Unseemly Science is fast approaching too – it hits stores in May 2015, with a third novel in the Fall of the Gas-Lit Empire series, The Custodian of Marvels, due Spring 2016.