2015 will be busy and exciting for Angry Robot as our publishing schedule is back under full steam in March, and we also still have some new authors to share with you. The first of these is Patrick S. Tomlinson with his debut novel, The Ark, acquired from Russell Galen of Scovil Galen Ghosh Literary Agency in a two-book deal with translation rights. Scheduled for November 2015, The Ark is a thrilling mystery set in deep space.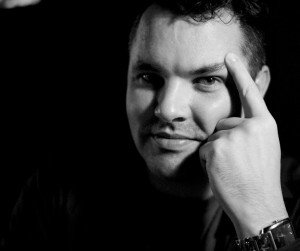 Patrick S. Tomlinson: "When my agent first told me I'd be working with an Angry Robot, I was skeptical. "Oh, no," I said. "I've seen this movie and the whole human race gets eradicated." But then I started to wonder why the robot was angry. And if it was angry, did that mean it had human emotions instead of cold, inflexible machine logic? If a robot can be angry, can it also learn to… love?
Oh, and I wrote a book set on a generation ship called THE ARK. It contains many words. Some of them are even in the right order."
Angry Robot's Consulting Editor, Phil Jourdan: "What a pleasure it will be to unleash this blend of mystery, action and Really Big Spaceship madness on the world. The Ark has one of those great, mega-satisfying endings that will make readers squeal with delight a little bit. Be warned."
The Ark
Sherlock Holmes meets 2001: A Space Odyssey
Humankind has escaped a dying Earth and set out to find a new home among the stars aboard an immense generation ship affectionately name the Ark. Bryan Benson is the Ark's greatest living sports hero, enjoying retirement working as a detective in Avalon, his home module. The hours are good, the work is easy, and the perks can't be beat.
But when a crewmember goes missing, Bryan is thrust into the center of an ever-expanding web of deception, secrets, and violence that overturns everything he knows about living on the Ark and threatens everyone aboard. As the last remnants of humanity hurtle towards their salvation, Bryan finds himself in a desperate race to unravel the conspiracy before a madman turns mankind's home into its tomb.
About Patrick: Patrick S. Tomlinson is the son of an ex-hippie psychologist and an ex-cowboy electrician. He lives in Milwaukee, Wisconsin with a menagerie of houseplants in varying levels of health, a Ford Mustang, and a Triumph motorcycle bought specifically to embarrass and infuriate Harley riders. When not writing sci-fi and fantasy novels and short stories, Patrick is busy developing his other passion for performing stand-up comedy.
 Join us in offering Patrick a robotically warm welcome: @stealthygeek on Twitter, Facebook, and Patrick's site, www.patrickstomlinson.com.