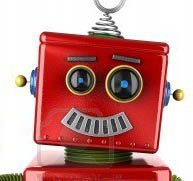 As you may know, us Angry Robots are mostly a British-based concern but at least one of our number is caught up in Thanksgiving deep in the American heartland. (Waves cheerily at Mike Underwood, no doubt already buried under a prodigious heap of turkey, biscuits, trimmings, fixings, hominy grits, pop tarts, roasted possums and whatever other extraordinary foodstuffs they eat over there in the Colonies.) Regardless of our current post code, however, after the kind of year that we've had, all of us here have massive reasons for giving thanks about now.
Thank you to everyone at Watkins Media, who came along just when we needed you. You've proved in these few short months to be 100% supportive of our publishing plans, our ongoing plans for innovation, and also our commitment to openness. We took some knocks over the summer, as our previous owners made some… unusual decisions in the run-up to breaking up the group to which we belonged, so we're doubly grateful for everyone's support. Thanks too to our colleagues beside us on the front line at Osprey across those months.
Immense thanks to all our amazing authors, who stuck with us during those unforeseen circumstances, even when we were forbidden from talking to you about what was happening. Your loyalty and understanding have been humbling. Here's to more amazing books in 2015 and beyond!
Thank you to our book biz partners – our salesmen and distributors at Random House and Faber, GBS and EPubDirect, audiobook teams at Brilliance and Audible, and our export friends in far-off lands. To our translation partners in many lands, who are making brilliant editions of our books in their own languages. To the gang at Gotham in LA who handle our (many) movie deals. To the freelance editors and designers, artists and tech types.
And of course, massive robot thanks to you readers, bloggers and convention runners, members of the Robot Army and the Robot Legions, all of you. A book only comes to life when it is read. Whether you collect every single Angry Robot book or have only read a handful, we give thanks on this special day to every last one of you.
Marc & Caroline & Mike & Phil
Your Robot pals
Some more Angry Robot books to give thanks for, coming very soon…