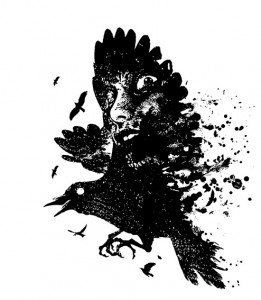 If you've not seen the announcement elsewhere yet, the lovely Chuck Wendig has sold three new Miriam Black books to the gang over at Saga (Simon & Schuster), and the first three volumes will be joining them over there too.
This happens pretty frequently in publishing, where books change publisher, and new books in the series are released in different packaging along with the backlist, but we'll be especially sad to see Miriam go. Back in the spring, Chuck suggested the new books for Angry Robot… just as our then-owners, Osprey Group, hit some difficulties that eventually led to the company being broken up and sold. We wanted to offer on them, oh how we pined for them, but we had strict orders from above: no new proposals could be bought at that time. Worse, the owners had also put a block on reprints of physical books, so paperback copies of Blackbirds ran out. With massive regret, and if we're being honest deeply frustrated by the whole situation, we had to let Miriam leave the Angry Robot label that first brought her to you all.
The Miriam books remain in our catalogue until the end of the year, so obviously we'd love you to snap up copies if you haven't yet, and do look out for those incredible new adventures from Saga – we've only read the synopses but they already rule. And we have to add: although we didn't move to our fabulously supportive new owners in time to keep Miriam on our label, the dark times are now receding in our rear-view mirror. We are pressing the Big Reprint Button for those few AR books that have slipped out of stock. Just as excitingly, we are preparing offers for a delicious clutch of new books from several of our favourite Angry Robot authors, and are about to introduce you to several new writers as well… Can't wait to tell you all about them soon.