We, here at Angry Robot HQ, are simply delighted to announce Alyc Helms has joined the ranks as an Angry Robot author. In a two-book, World English, deal, Alyc was signed from Lindsay Ribar and Stefanie Diaz (Greenburger Assocs) and Anna Carmichael (Abner Stein). The first title, The Dragons of Heaven, will be published in April 2015.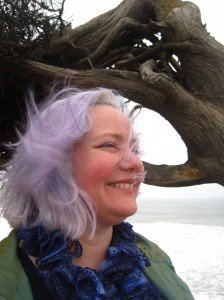 Alyc Helms: "I feel so lucky to join the Angry Robot family–The covers! The inside-the-covers! The authors! The staff!–I'm completely chuffed. I get to say chuffed now. It's one of the perks."
Marc Gascoigne: I do like it when the team bring in a novel proposal and we all devour it at a single sitting. Such was the case with the delicious The Dragons of Heaven by Alyc Helms, which we all love and cannot wait to present to you, our devoted readers. It's another in a long line of wonderful Angry Robot books that defies categorisation without resorting to a hell of a lot of hyphens. Alright, if you insist: it's a sort of superhero-pulp-kung fu-magician-fantasy-mystery-adventure. See what I mean?"
Drawing on the legacy of Indiana Jones, Jack Burton, and The Shadow, Missy Masters is an adventure heroine for the 21st century.
"A tough, witty young woman who inherited her superhero grandfather's powers barrels through a rollicking 'Big Trouble in Little China'-esque tale filled with magic, monsters and wisecracks. I loved it."
Alex Bledsoe, author of The Hum and the Shiver, on The Dragons of Heaven 
Street magician Missy Masters inherited more than the usual genetic cocktail from her estranged grandfather; she also got his preternatural control of shadow and his legacy as the vigilante hero, Mr. Mystic. Problem is, being a pulp hero takes more than a good fedora and a knack for witty banter, and Missy lacks the one thing Mr. Mystic had: experience. Determined to live up to her birthright, Missy journeys to China to seek the aid of Lung Huang, the ancient master who once guided her grandfather.
Lung Huang isn't quite as ancient as Missy expected, and she finds herself embroiled in the politics of Lung Huang and his siblings, the nine dragon-guardians of creation. When Lung Di, Lung Huang's brother and mortal enemy, raises a magical barrier that cuts off China from the rest of the world, it falls to the new Mr. Mystic to prove herself by taking down the barrier. But is it too great a task for a lone adventure hero?
Would you deal with the devil to save the world?
About Alyc Helms: Alyc Helms fled her PhD program in anthropology and folklore when she realized she preferred fiction to academic writing. She lives above a dive bar in the San Francisco Bay Area, where she's a project manager for Macmillan, a freelance editor, and a volunteer copyeditor for Nightmare Magazine. In addition to writing, she dabbles in corsetry and costuming, dances Scottish Highland and Irish Ceili at Renaissance and Dickens fairs, rants about social justice issues, and games in all forms of media. She sometimes refers to her work as "critical theory fanfic," which is just a fancy way to say that she is obsessed with liminality, gender identity, and foxes. She's a graduate of Clarion West 2012, and her short fiction has appeared in Daily Science Fiction and Crossed Genres and will be appearing in Lady Churchill's Rosebud Wristlet and Beneath Ceaseless Skies.
 Join us in welcoming Alyc to our motley crew: @alychelms and check out her website: http://www.alychelms.com