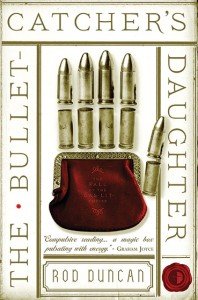 This weekend's FantasyCon takes place in the beautiful city (or so I've heard, never actually visited) of York. Events take place in the Royal York Hotel, and here's a handy list of where you'll find some Angry Robot folk, starting with the launch of Rod Duncan's The Bullet-Catcher's Daughter and definitely finished by the legendary disco on Saturday night:
SATURDAY 6.00pm – Angry Robot The Bullet-Catcher's Daughter – Rod Duncan
FRIDAY 5th
7.00pm – Larry Rostant in Conversation Marc Gascoigne interviews our Artist Guest of Honour.
7.00pm – Podcasting for beginners What makes a really good podcast? Which are the ones you should be listening to? How can you make your own? Peter Newman (m), Alasdair Stuart, Emma Newman, Stephen Aryan
SATURDAY 6th
10.00am – But Does It Make Sense?
Economics of fantasy systems. If Smaug holds all the gold and it gets liberated, what does that do to the economy?
Leila Abu el Hawa (m), Kari Sperring, Kate Elliott, Tom Pollock, Anne Lyle
11.00am – It's the End of the World as we Know It – And I Feel Unsurprised
Does the popularity of dystopia in YA reflect a generation's expectation of living in a nightmarish future?
Guy Adams (m), Janet Edwards, Leila Abu el Hawa, Jonathan Oliver, Laura Lam
12.00 Noon – Dead Parents, Burned Homesteads and Wicked Stepmothers
Is it essential to write out the parents before youthful characters can head out on adventures? Are adult figures always unhelpful or malign? Should writers search for ways to keep parents around — or do fantasies of a world without parents fulfil a real need?
Marc Gascoigne (m), Edward Cox, Emma Newman, Sophia McDougall, Glenda Larke, Laura Lam
6.00pm – We've Got It Covered
What are the elements of great cover design? From artwork and design, through to cover copy and author blurbs.
Larry Rostant, Jim Pitts, Marc Gascoigne, Helen Marshall, Adele Wearing (m)
6.30pm – Mass Signing
Your favourite authors are here, ready to sign your books!
7.00pm – Tea and Jeopardy with Toby Whithouse
Join the Hugo-shortlisted podcast team of Emma Newman and her butler Latimer, as they grill Guest of Honour, Toby Whithouse. Warning: Contains mild peril!
Emma Newman, Peter Newman, Toby Whithouse
9.00pm – Super Relaxed Fantasy Club
Super Relaxed Fantasy Club is a gathering of like-minded SFF fans, getting together for an extremely informal chat about our favourite things. With an emphasis on parity and inclusivity, we have readings and Q&A sessions with writers from a wide range of genres, punctuated by a lot of catching up and gossip. It's as simple and as relaxed as that. Readings by Laura Lam, Edward Cox, Emma Newman and Niel Bushnell. We're also thrilled to announce we have a short interview with Simon Spanton from Gollancz, with James Barclay.
FOR THE FULL SCHEDULE, CLICK HERE but here's one Saturday event you shouldn't miss…
8.30 – The FantasyCon Disco, sponsored by Gollancz. Dedicated to Hajnalka Bata Strut your funky stuff, oh no. (We're probably serious about the "oh no".) With your verrrry special guest DJs… Guy "Funky World House" Adams and your very own Robot overlord, Marc Gascoigne.