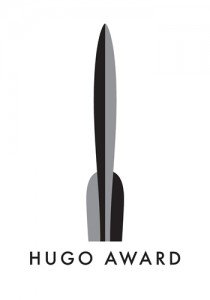 Soooo, we can't imagine that if you have any interest in the wider world of science fiction that you missed the winners of this year's Hugo Awards, presented as the climax of the massive, and massively enjoyable, Worldcon here in England's London, aka Loncon 3. But just in case, here's a completely biased summary:
Kameron Hurley won TWO. As we said there in the hall, hell yeah! In fact, we screamed and whooped and screamed some more.
And that's not all. We're so, so proud of our writer friends and colleagues who placed well in the rankings, with nominations for:
Emma Newman, for her sensational Tea & Jeopardy podcast
Both Wesley Chu and Ramez Naam, up for the John W Campbell Award for best new writer (yeah yeah, OK, not strictly a Hugo yadda yadda)
Aliette de Bodard, nominated for her lovely novelette, The Waiting Stars.
Our man Mike Underwood, up as part of the team behind the Skiffy & Fanty Podcast.
And our now-departed but still beloved Lee Harris, nominated for Best Editor (Long Form), a fitting end to his AR years as he heads off to pastures new.
Loads of other great people were justly celebrated too, of course, and you can read up on them, even see all of the breakdowns in how people voted if you like. It's all been rather lovely. Roll on 2015.