With the US and ebook release dates for our September titles – The Mirror Empire by Kameron Hurley and The Bullet-Catcher's Daughter by Rod Duncan – fast approaching, what better time to recap the wonderful and exciting things that are being said about these two fantastic books.
The Mirror Empire's release follows hot on the heels of Kameron's TWO Hugo awards at LonCon, and is certainly making waves in the fantasy circles. We are very excited for it be unleashed on the general public, and look forward to seeing and hearing reader reactions. For the full list of Kameron's blog tour, check out her blog post here. For now, here are just some of the rave reviews The Mirror Empire has received, thus far:
STARRED REVIEW: "This is a hugely ambitious work, bloody and violent, with interestingly gender-flipped politics and a host of factions to keep straight, as points of view switch often. Although it is a challenging read, the strong narrative thread in this new series from Hurley (God's War) pulls readers through the imaginative tangle of multiple worlds and histories colliding."
– Library Journal
STARRED REVIEW: "Hurley (Rapture) reuses old tropes to excellent effect, interweaving them with original elements to create a world that will fascinate and delight her established fans and appeal to newcomers. Readers will blaze through this opening installment and eagerly await the promised sequel."
– Publishers Weekly
"Hurley intelligently tackles issues of culture and gender, while also throwing in plenty of bloodthirsty action and well-rounded characters. This is a fresh, exciting fantasy epic that's looking to the future and asking important questions. 4****/5″
– SFX magazine
"The Mirror Empire is a fresh, vigorous, and gripping entrant into the epic fantasy genre, able to stand toe-to-toe with any of the heavyweight series out there. I cannot recommend this novel highly enough."
– SF Revu
"The Mirror Empire is epic in every sense of the word. Hurley has built a world – no, worlds – in which cosmology and magic, history and religion, politics and prejudice all play crucial roles. Prepare yourself for sentient plants, rifts in the fabric of reality, and remarkable powers that wax and wane with the stars themselves. Forget all about tentative, conventional fantasy; there's so much great material in here that Hurley needs more than one universe in order to fit it all in."
– Brian Staveley, author of The Emperor's Blades
"Taking epic fantasy down challenging and original paths. Thoughtful and thought-provoking with every twist and turn."
– Juliet E. McKenna
"For me [The Mirror Empire] did all the things a fantasy should do — holding our own societies up to the light by reflecting off worlds that are very different. Add in a magic system where the users are only powerful some of the time, and semi sentient vegetation that is possibly more of a threat than the magic users, and I happily sank into this book with a satisfied sigh."
– Francis Knight
"Bold, merciless, and wildly inventive, Kameron Hurley's The Mirror Empire begins an epic tale of worlds at war that will linger long in readers' imaginations.  If you're looking for original and challenging fantasy, this is definitely the series for you."
– Courtney Schafer, author of The Whitefire Crossing
"The Mirror Empire is the most original fantasy I've read in a long time, set in a world full of new ideas, expanding the horizons of the genre. A complex and intricate book full of elegant ideas and finely-drawn characters."
– Adrian Tchaikovsky, author of The Shadows of the Apt series and finalist for the 2014 Gemmel Legend Award
"There's a powerful yet elegant brutality in The Mirror Empire that serves notice to traditional epic fantasy: move over, make way, an intoxicating new blend of storytelling has arrived. These are pages that will command your attention."
– Bradley Beaulieu, author of The Lays of Anuskaya trilogy
"With vividly inventive world building and a fast-paced plot, The Mirror Empire opens a smart, brutal, and ambitious epic fantasy series. Book two is already on my must-read list."
– Kate Elliott , author of the Spiritwalker Trilogy
"The Mirror Empire takes look at epic fantasy patriarchy & gives it a firm kick in the balls…[it] will be the most important book you read this year."
– Alex Ristea, Ristea's Reads
"In the two worlds of The Mirror Empire, we get Deadly Plants, Blood Magic, and yes, Brutal Women. The Mirror Empire is both a chance for fantasy fans to get to know Hurley's writing, and for previous fans of her work to see what she can do in a new vein. And for readers new to her work, this is in many ways the best place to start. 4.5****/5."
– Paul Weimer, SF Signal
"One of the most stunning epic fantasies I've read this year. The setting is unique and plays a major role in the story. A spectacular novel."
– Books Without Any Pictures
"I can't even tell you how much I liked this book. It was long, yes, but I didn't mind it because there was just so much awesome happening. I classify it as a fantasy, but it could also be considered science fiction, what with the parallel universes and binary star system and all."
– In Case of Survival
"At its best this novel is as good as anything I have read this year. Expect to hear 'ambitious' a lot; I couldn't imagine the mental and physical mapping it would take to hold all these pieces together but hold together they do. The world is alive, the world is unique, and the world is actually built rather than borrowed."
– Fantasy Review Barn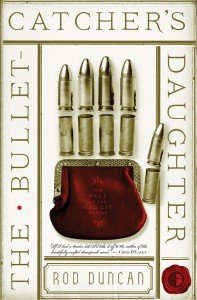 Not content with releasing The Mirror Empire in September, we also have the award-winning author Rod Duncan with The Bullet-Catcher's Daughter, a riotous novel of alternate history, set in a divided England. The cover is the first thing to catch everyone's attention, and rightly so. This beautiful creation is by the fantastically talented Will Staehle, and visit Tor.com for Will's exclusive post on his design process. The first book in the Fall of the Gas-Lit Empire has certainly struck a cord with readers, and here's some of the reasons why reviewers are loving Elizabeth Barnabus and her story:
"Steeped in illusion and grounded in an alternative history of the Luddite Rebellion, Duncan's strong supernatural mystery serves ably as both a standalone adventure and the start to a series…Strategically placed steampunk tropes inform but do not overwhelm Elizabeth's headlong quest to find a missing aristocrat sought by the Patent Office, which is fixated on both achieving perfection and eliminating "unseemly science." A hazardous border crossing into the permissively corrupt Kingdom of England and Southern Wales provides ample excitement, and a glossary at the novel's conclusion hints enticingly at a much more involved story to come."
– Publishers Weekly
A "detective story with a difference…Chapters begin with quotes from the legendary Bullet-Catcher's Handbook, phrases that introduce not only the idea of illusion that pervades the novel, but also the author's sly humour. [Duncan's misdirection is] subtly and well done, all the way through the book, right to a neat little twist at the end, a play on the title that had me nodding in approval. Each [character] is vividly portrayed, lively enough to feel like the heroes of their own stories, all with distinctive voices; it's always a good sign when you find yourself reading dialogue out loud, rolling your lips and tongue around the words.
Rod Duncan's talent has combined inventive plot and characterisation to create a smart, amusing and fascinating tale that had me reading long into the night."
– Fantasy Faction
"It's all steampunk and circus wonder as we follow the adventures of Elizabeth Barnabas.The double crosses along the way keep the plot tight and fun, and the conclusion sets us up nicely for book two."
– The Washington Post, Best New Science Fiction and Steampunk
"If I had a bowler hat, I'd take it off to the author of this beautifully crafted steampunk novel."
– Chris D'Lacey, author of The Last Dragon Chronicles
"Rod Duncan's The Bullet Catcher's Daughter is a magic box pulsating with energy. Compulsive reading from the get-go, the blend of steampunk alternate history wrapped in the enigma of a chase makes for first-rate entertainment in this finely crafted novel."
– Graham Joyce, author of Year of the Ladybird
"The Bullet-Catcher's Daughter is off to a solid start. Rod Duncan has created a wonderful setting in The Bullet-Catcher's Daughter taking in account the big as well as the small things that are needed to make a world go round. He has struck a perfect balance between both highlighting the characters, from our main protagonist Elizabeth Barnabus down to the secondary characters, and the world itself, using bits and pieces of exisiting history spinning it in his own way by adding enough fantasy influences to make it one-of-a-kind. It is with these kind of books that make sure the fantasy genre is kept fresh. If you are looking for something new and refreshing make sure you read The Bullet-Catcher's Daughter, it's is everything you want and much more!"
– The Book Plank
"Looking for a good book?  Mystery, duplicity, secret societies, alchemy, romance, action … The Bullet-Catcher's Daughter by Rod Duncan has it all and promises to be the talked-about/must-read book for sci-fi/fantasy enthusiasts this year!"
– Looking For A Good Read
"Really, a fine and well crafted novel. As per the glossary, Elizabeth plays a key role in the fall of the Gas-lit empire. Cheers to that as she is a captivating character. Angry Robot has picked a winner."
– Koeur's Book Reviews
"Steampunk at its best. Engaging characters, spectacular settings and snappy dialogue."
– Cayocosta72 Book Reviews
"I was immediately hooked by the world Duncan created. What would the world look like if the Industrial Revolution had been halted, even reverse? What really made this book for me was Elizabeth Barnabas. Her unusual upbringing in a traveling circus and her five years of forced independence have made her clever and strong. She's a wonderful character and it was a treat to watch her work through the challenges the cropped up as she find out why everyone wants to get their hands on the Duchess's missing brother.

"The Bullet-Catcher's Daughter is the opening book in a series and I will be eagerly waiting for the next installment of Elizabeth's adventures."
– Summer Reading Project
"The Bullet Catcher's Daughter is an entertaining book that has some genuine, original touches combined with a clever story and even cleverer characters."
– SF Book Reviews
"Rod Duncan has successfully written an absorbing tale from the perspective of a woman in the early nineteenth century.  This is science-fiction with the sub genre of Steampunk, so technology is unorthodox and fascinating. A cracking read."
– Fancy Pans Cafe
"Duncan has crafted a credible and intriguing world where the twists of a society founded on very different ideals are perhaps even more important than the technology. That makes this novel, while solidly a steampunk offering, feel very fresh and engaging. The backdrop of the circus and the surprising way Elizabeth manages to make a living give the whole story real depth. This is the first in a planned series of novels entitled The Fall of the Gas-Lit Empire: I'm certainly looking forward to the next installments. Fabulous."
– Geek in Sydney
Have you pre-ordered your copy yet? Both books are released in the US and on ebook next Tuesday, 26 August with UK and ROW releasing Thursday, 4 September. Happy reading!