We're welcoming in the month of August with a round-up of some of the latest reviews and activity from our authors.
First up, the much-anticipated Kameron Hurley's The Mirror Empire, September 2014.
• Publishers Weekly rewarded Kameron's epic fantasy novel with a starred review: "Hurley reuses old tropes to excellent effect, interweaving them with original elements to create a world that will fascinate and delight her established fans and appeal to newcomers. Readers will blaze through this opening installment and eagerly await the promised sequel."
• It's hard to choose just one or two great lines from Alex Ristea's review but here's a taster of why he loved it so much:  "This is world-building at its finest—an imaginative and fantastical world that is unrelenting in its immersiveness…The Mirror Empire takes a look at the epic fantasy patriarchy and gives it a firm kick in the balls." Alex ends his rave review by saying, The Mirror Empire "will be the most important book you read this year."
• When the most a reviewer dislikes about a book is the wait for its sequel, it's safe to say we're pretty happy. Thus was the case when In Case of Survival read The Mirror Empire: "I can't even tell you how much I liked this book…I cannot wait to come back to the Worldbreaker universe and find out what the characters are up to."
• Fantasy Review Barn awards with 4 stars: "The Mirror Empire will make your head hurt in a very good way. I couldn't imagine the mental and physical mapping it would take to hold all these pieces together but hold together they do. This book deals with gendered expectations on every page yet could be read for the story alone; different conventions and expectations are ingrained into the societies portrayed so naturally that they shouldn't even raise a brow. The world is alive, the world is unique, and the world is actually built rather than borrowed."
• Can't wait for The Mirror Empire's release? Check out Tor.com's excerpt, and lastly, here's a hat tip to Amanda Rutter, former Strange Chemistry editor, who worked on The Mirror Empire and has been blogging about it on Floor to Ceiling Books.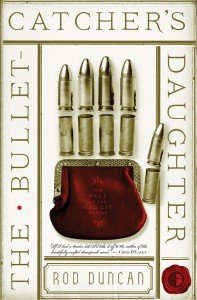 Rod Duncan's The Bullet-Catcher's Daughter, September 2014, charmed Publishers Weekly early on, "Duncan's strong supernatural mystery serves ably as both a standalone adventure and the start to a series."
• Alister at Fantasy Faction is blaming TBCD for some late nights and tired mornings: "It's fair to say I was smitten by The Bullet-Catcher's Daughter. Rod Duncan's talent has combined inventive plot and characterisation to create a smart, amusing and fascinating tale that had me reading long into the night."
• Annie over on the Summer Reading Project "was immediately hooked by the world Duncan created." Eagerly awaiting the next instalment, what made this book for Annie "was Elizabeth Barnabas. Her unusual upbringing in a traveling circus and her five years of forced independence have made her clever and strong. She's a wonderful character and it was a treat to watch her work through the challenges the cropped up as she find out why everyone wants to get their hands on the Duchess's missing brother."
• I'm glad to see Looking For A Good Book trusted us with an unknown author: "There wasn't a single moment that I felt bored or wanted to skip ahead a little.  I was mesmerized early and the story and characters blossomed before me with precision…Looking for a good book?  Mystery, duplicity, secret societies, alchemy, romance, action … The Bullet-Catcher's Daughter by Rod Duncan has it all and promises to be the talked-about/must-read book for sci-fi/fantasy enthusiasts this year!"
• SF Book: "The Bullet Catcher's Daughter is an entertaining book that has some genuine, original touches combined with a clever story and even cleverer characters."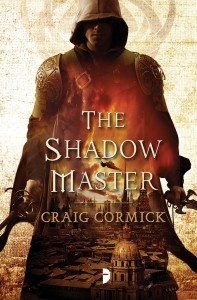 The Shadow Master by Craig Cormick, July 2014, has been instigating a lot of online chat and Craig himself has been busy with interviews on the Qwillery and Donna Maree Hanson, amongst many others.
• While Avid Fantasy Reviews thinks The Shadow Master is one of the strangest books we here at Angry Robot Books have published, it seems that works as it's rated 8.5 / 10 and one of the best books she's read all year!
• Upcoming4.me have Craig's Story Behind his Story, and for more details on Craig's inspiration for The Shadow Master, click here
• Craig has also been on Tor.com for his Pop Quiz at the End of the Universe.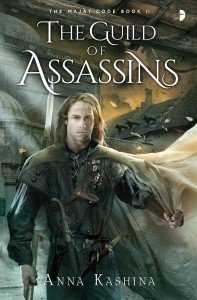 Anna Kashina is celebrating the release of her second novel, The Guild of Assassins, August 2014, the sequel to Blades of the Old Empire and is enjoying dual promotion!
• The Blogger Girls "loved, loved, loved the world and the characters" of Blades of the Old Empire, and I'm sure are looking forward to The Guild of Assasins!
• Anna is on Mary Robinette Kowal's blog talking about her Favourite Bit of The Guild of Assassins
• On August 4 Anna starts a Blog Tour with full details here, with a chance to win both Blades of the Old Empire and The Guild of Assassins as well this banner, courtesy of Tasty Book Tours: