It's been very busy at Angry Robot HQ lately, and not just because of the fantastic titles we've been publishing! I know some of you have noticed I've been quieter, and out of the office a few days, but I'm back…and just about in one piece.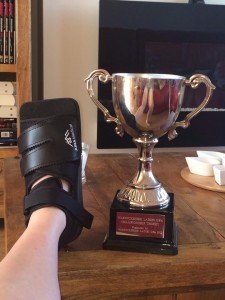 I play Gaelic Football for Roger Casements GAA Club and just last week we had a very exciting game…the Warwickshire Championship Final. This is one of three competitions we play in throughout the year and, as the county final, it was a big day for the players and the club. These big games require everyone to put their all in, and as I'm captain of the team I expect myself to give even more. However, breaking my foot 10 minutes into a 60 minute game – and continuing to play for the rest of the game – is maybe a bit more than I would usually expect. In my defence, I did think I'd 'only' broken my toe or something smaller than my fifth metatarsal!
As our Robot Leader, Marc, declared, we're tough cookies here at Angry Robot Books!
Unfortunately this fancy shoe I'm wearing does mean I can't drive and thus won't be in the office until it's off, so it's best to reach me via email for the time being. If you need to have a chat, email me for my mobile number.
Let this be a lesson: don't mess with the Robot Team…we don't ever give up!
For anyone interested, here's a YouTube video* that'll give you the gist of the national sport of Ireland!
*This video displays the general rules of playing Gaelic Football but not all apply to Ladies Football e.g. we can carry for 5 steps – not 4, and we're not allowed shoulder-to-shoulder tackles.