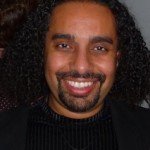 We're already set for a bumper evening with Anne Lyle, Mike Shevdon, Adam Christopher, Wesley Chu and Madeline Ashby at Forbidden Planet on Wednesday 13 August at 6pm, but we're delighted to announce that Ramez Naam will also be joining us!
Join us for an evening of readings, signing, and robotic dance moves. Enjoy an informal evening of meeting some of your favourite authors and listening to some fantastic fiction!
RSVP
Forbidden Planet have an event page on their Facebook page on which you can RSVP, and I do encourage you to do so. Surprise, surprise, here's a handy link to said Facebook page! You can also tweet us, @angryrobotbooks, or @forbiddenplanet. Please feel free to share with your friends, colleagues, enemies – hey, we don't discriminate, and we look forward to seeing you on Wednesday, 13 August!