Tuesday 1 July marked 5 years from Angry Robot's first books – Lauren Beukes' Moxyland and Kaaron Warren's Slights – and throughout this week we are celebrating with daily staff blog posts and giveaways! Author guest posts and other cool giveaways will be popping up on various sites so keep an eye out for our #AngryRobot5 on Twitter for new posts.

We've already had our Senior Editor, Lee Harris, with his Top 5 Reasons Angry Robot Rules, MD Marc Gascoigne with 5 lessons learned, and Publicity Manager Caroline Lambe with her 5 Favourite Angry Robot Characters. Next up is Mike Underwood, US Sales & Marketing Manager and his choice of giveaway is Empire State by Adam Christopher. Details of this giveaway, and why Mike chose Empire State are at the end of this post.
Hi Robot Army, Mike here.
It may not seem like it, but I wasn't always an Angry Robot. I first discovered AR back in 2010, when my dad (a Random House sales rep), gave me a first run set of Angry Robot books as the list was launching in the US. And what I noticed, from the very beginning, were the covers and packaging. I grew up in a publishing household, and have been a SF/F reader for nearly my entire life, so I pay attention to these things.
One cover in particular stood out to me: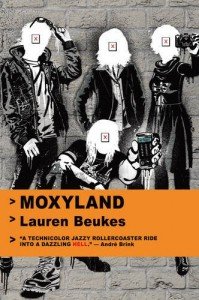 Moxyland, by Lauren Beukes, cover by Joey HiFi. The cover had a Cyberpunk sensibility, and the subtle but very smart design of the broken image files for the faces of the characters. It grabbed me right off and sent me to the back cover copy to find out more.
A few years later, I'd followed Angry Robot here and there, read a few books, and then I came across Empire State, by Adam Christopher (cover by Will Stahle):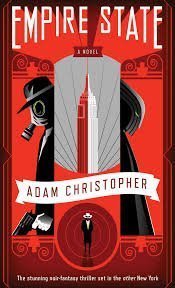 Empire State was the novel I read on the plane out to interview for the job, and talked with Marc about the book, how it lent itself to the WorldBuilder program, and used that as a springboard to talk about possible future plans for Angry Robot.
Months later, when all of the surgical scars from my cybernetic sales & marketing implants were healed, we revealed this wild beauty of a cover for Chuck Wendig's The Blue Blazes, by Joey HiFi:
Like so much of Joey HiFi's work, the cover for The Blue Blazes is nearly fractal in its detail. Scenes are piled on top of scenes, individual scenes building to a designed cohesive whole.
Also, meat cleaver.
Just last Autumn, we put out a Big Fat Fantasy by the name of:
Heartwood, which went on to win author Freya Robertson the Sir Julius Vogel award. The cover, by Alejandro Colucci, is a big, double-decker cheeseburger of FANTASY ART. You know what you're getting here – knights, combat, and a grand sense of scale.
And last, but certainly not least, comes a cover that has already served me very well in my efforts to spread the word of Angry Robot across North America and beyond. It hung right above my head all through Book Expo America, allowing me to answer people's question of "what do you have coming this fall" by pointing at this piece of amazing work by Richard Anderson for The Mirror Empire:
*drool*
Five years into Angry Robot-ing, I'm so very happy that a look at the cover to Moxyland put me on the path to be here, working inside Angry Robot orbital headquarters, helping new authors, emerging stars, and genre veterans get their work out into the world.
Mike's Giveaway
For my giveaway, I'm picking Empire State (x 5 copies), which continues to be, in my mind, one of the most Angry Robot-y Angry Robot books we've done.
Entry Details
Comment below and tell us your favorite Angry Robot cover to enter. Winners will be picked at random. Entries will close tomorrow, Friday, at 12.01pm BST, when we will have Amanda's post with another giveaway!
For brownie points, join in our #AngryRobot5 conversation on Twitter and tell us about your favourite Angry Robot book, or if you haven't read one yet, which you would like to pick first! Don't forget to include us: @angryrobotbooks