Yesterday, Tuesday 1 July, marked 5 years from Angry Robot's first books – Lauren Beukes' Moxyland and Kaaron Warren's Slights – and throughout this week we are celebrating with daily staff blog posts and giveaways! Author guest posts and other cool giveaways will be popping up on various sites so keep an eye out on Twitter's #AngryRobot5 for new posts.

If you've missed the earlier posts, here's links to Lee Harris with his Top 5 Reasons Angry Robot Rules and Marc Gascoigne with 5 lessons learned. Next up is Caroline Lambe, Publicity Manager, as always hating writing about herself in the third person. Caroline's choice of giveaway is a special bumper pack; details are at the end of this post.
To pick 5 favourite characters from a range of books like Angry Robot's is very hard; I was tempted to write a whistleblowing post on the 5 characters that are my colleagues, but I'm sure the Robot Overlords would send me to the scrapheap if I tried. However, I've tried to narrow it down so allow me share with you my Top 5 Characters from our books.
The Mad Scientist's Daughter is one of my favourite Angry Robot books, and is responsible for one of my Top 5 Characters: Finn. In Finn, Cassandra Rose Clarke created a character that, although is an android, shows more emotion than most of the human characters. The book explores humanity, consciousness, and love, of which Finn is the embodiment. When I first started this book, I treated Finn warily – he was the outsider who appeared like a ghost to Cat and scared her. But their relationship, of which I was so sceptical, blossoms tenderly, unexpectedly and believably, and all because of Finn. He is a character of impressive emotional range, and is so much more than a tangle of wires and circuits.
"There is nothing else like me in the entire world, said Finn. "That's what you wrote. I'm the only one. I can't tell you what it means to be the only one of my kind," he said. "I can't…There is a lack in myself. But your thesis almost filled it in. It was…a start." Finn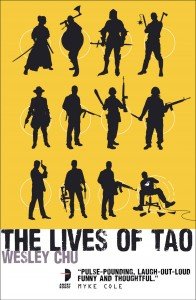 Wesley Chu's debut novel, The Lives of Tao, has received rave reviews and awards, and for me – like many others – Roen is a huge part of the reason. He doesn't want to be a hero; why can't he sit at home every evening after work, eating pizza, and being miserable? Roen is that person we fear we will be: stuck in a job we hate, in a rut with our life, and unable to do anything about it. Whilst Tao comes along for Roen and forces a change, The Lives of Tao shows us that we don't need our own Tao to live inside our heads – and I'm certainly OK without being chased by the Genjix – but we can all change and become the people we want to be.
Plus, Roen has some of the best lines and action scenes: when he confronts the mugger and the bottles don't break and then asks the mugger for his money? I love Roen!
"I can't quit. I have rent, and a cat to support." Roen
Between Two Thorns presents a harder choice: Catherine Rhoeas-Papaver or Gargoyle? The gargoyle is hilarious and a great sidekick but plays a far more important role as he articulates Max's feelings. Cathy is resourceful, brave, and strong but also stubborn, and rebellious with a wicked temper, and pips the gargoyle to the post as my favourite Split Worlds character. 
Cathy is against everything her family believes, the restrictive life of the society in which she was raised, and her struggles against this world feel authentic. She doesn't lose sight of what she wants, It's tricky to say too much about Cathy without giving away the events across the trilogy, but if you have yet to visit The Split Worlds, I highly recommend you do.
Plus, if ever you're in Bath, I dare you to try not look for access to the Nether!
Miriam Black has her first outing in Chuck Wendig's
Blackbirds, and I unashamedly love her. She might gross and creep me out sometimes, but wouldn't you be deranged if death following your every move? By simply having skin on skin contact – a fingertip graze, a bump – Miriam can tell where, when, and how you will die. Does she thus try to prevent deaths? HELL, NO. Miriam uses this power to track people about to die, robs their still-warm bodies, and spends the money on her favourite things: alcohol and cigarettes. Blackbirds is morbid and terrifying, and brilliant. It's utterly refreshing to read a character like Miriam: a foul-mouthed, vile anti-heroine who is laugh-out-loud sarcastic. Beware: if you're used to reading lighter books, or aren't OK with some super-gross descriptions, gore, etc, Miriam may not be for you!
"A lady should be respectful," is all he manages through gritted teeth. He pitches the towel in the corner.
Miriam snorts. "That's me. My fair fuckin' lady." Miriam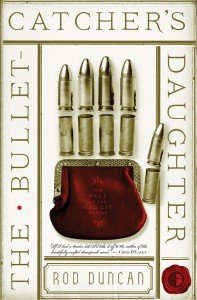 Excuse me, but I think I'm going to cheat a little with my fifth choice! So far, I've brought you characters you may have already read and liked – or loathed – but for my final character, I'm picking an upcoming: Elizabeth Barnabus from The Bullet Catcher's Daughter, publishing Sept, 2014. Rod Duncan is an award-winning crime novelist and it shows as he creates a clever story, in a novel exploring many boundaries. Elizabeth is a courageous cross-dressing private detective, who takes on the persona of her imagined twin brother, Edwin, to solve the mystery of a missing aristocrat and a hoard of arcane machines. She is cunning, an accomplished liar, and an adept reader of people.
She is driven, intriguing, and her dialogue is snappy and brings her to life. I can't wait for you all to meet Elizabeth Barnabas!
"I'm no more than a shadow, and can have only such friendships and feelings as a shadow might." Elizabeth
So, what do you think? Did I leave out your favourite character or do you totally agree / disagree with who I've picked? Who would your Top 5 Angry Robot characters be? Tweet us @angryrobotbooks to join the conversation and don't forget to use our #AngryRobot5.
Caroline's Giveaway
For my giveaway, instead of 5 copies of 1 book, I'm going to go with a bumper prize pack of these 5 books! If it's my choice, I might as well give you 5 of my favourite books to enjoy. So, one winner will receive The Mad Scientist's Daughter, The Lives of Tao, Between Two Thorns, Blackbirds, and The Bullet Catcher's Daughter.
Entry Details
To enter, comment below and tell us your most memorable book character. It doesn't have to be from Angry Robot, but any character you loved – or indeed love to hate – in a book. Winner will be picked at random, no geographical restrictions. Entries will close tomorrow, Thursday, at 12.01pm BST, when we will have Mike's post with another giveaway!