Good day to all your robotic readers out there!
Today's round up features two of our latest fantastic books Peacemaker by Marianne de Pierres and Morningside Fall by Jay Posey.
It's been a while since we did a round up so I won't delay you with rambling chit chat, instead I'll cut straight to it and show you what people have been saying!
Peacemaker by Marianne de Pierres
"I liked a lot about this book. There were plenty of twists, turns, and double crosses… Peacemaker is a good sf mystery for people looking for something a little different. Four stars." – Dangerous Dan
"Move over stale f/sf themes; enter: Peacemaker, a wholly original and thrilling fantasy adventure." – Looking for a Good Book
"Peacemaker rollicks along at a cracking pace, and I found myself holding my breath in anticipation at times, which is always a good sign! I got to the end of the book and flipped the last page in disappointment, because while the story ended well (albeit definitely set up for the next volume), I simply didn't want it to stop. Bring on the next instalment!" –Fablecroft
"If you like your thrillers a little on the strange and dystopian side or your dystopias a little on the mythological and crime-solving side, Peacemaker could be the start of a series you're looking for." – New York Journal of Books
"Tired of the same old thing when it comes to urban fantasy? Look no further than Virgin Jackson." – My Bookish Ways
"This is the first novel by Marianne de Pierres I've read, and I hope to read more about Virgin Jackson and (perhaps) Nate Sixkiller. A fun romp that is much more than the parts which comprise it." – Tor.Com
" As a world-builder, Marianne de Pierres is better than a huge percentage of authors out there – especially when it comes to creating dangerous, ghetto-like areas with violent inhabitants – and Peacemaker is no exception." – Amy Parker (Goodreads)
"An intricate and highly original page-turner with elements of science fiction, western adventure, supernatural mystery and crime thriller" – Paula Weston (Goodreads)
"Peacemaker sets a fast pace which only increases as the pages turn." – SF Crows Nest
Morningside Fall by Jay Posey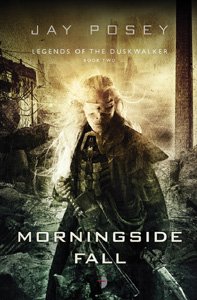 "You never know whether Book #2 in a series will be as good as Book #1. Rest easy – although Morningside Fall has to take a different tone because of story development, I feel it's every bit as good as Three, and it just makes me anxious to read Book #3!" – Popcorn Reads
"Morningside Fall is a clever, unexpected take on a digitally enhanced post-apocalyptic world. Posey blends the aesthetic of the Western and the cyber-spec fic worlds with a sure and sentimental (in the best way) hand." – Never to be Told
"The overall atmosphere of Morningside Fall was one of tense, edge-of-your-seat terror. Posey knows how to convey suspense, and he put his characters in danger over and over again, which left my pulse pounding and my heart racing. This is science fiction, but like the best SF, it's also horror." – Books, Bones & Buffy
"This is definitely a book I'll re-read again. I recommend it for anyone who enjoys a young hero, an action adventure, science fiction, post-apocalyptic, and soft fantasy. I think because this novel so seamlessly melds these elements together, it's a great introduction series for those wanting to try a hybrid novel out. Morningside Fall defies genre in all of the right ways." – RJ Blain
"Posey has constructed a really unique world, one that steps to the side of the usual zombie tropes and provides an apocalypse that's at once unfathomable, but also believable. That's no mean feat." – SF Crows Nest