Hi Guys,
So not long ago Leah told you all about a brilliant project being undertaken by Upcoming4.me. They produced a book of story insights, some of which were written by our very own Angry Robot authors, with all the sale proceeds going to the Epilepsy Action Charity.
A great cause and a wonderful project, and the best part is they've put together Volume 2 which you can order today! Once again some of our fantastic authors have got involved, so make sure you get straight over to Amazon and get your copy!
Here is a short synopsis of the book: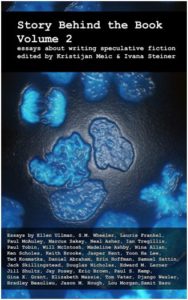 "Story Behind the Book: Volume 2" collects over 30 non-fiction essays from some of the most exciting authors working today. Chronicling the process of writing and editing speculative fiction, these essays provide a unique glimpse behind the scenes.
Contributors include Ellen Ullman, S.M. Wheeler, Laurie Frankel, Paul McAuley, Marcus Sakey, Neal Asher, Ian Tregillis, Edward M. Lerner, Will McIntosh, Madeline Ashby, Nina Allan, Ken Scholes, Keith Brooke, Jasper Kent, Yoon Ha Lee, Ted Kosmatka, Daniel Abraham, Erin Hoffman, Samuel Sattin, Jack Skillingstead, Douglas Nicholas, Paul Tobin, Jill Shultz, Jay Posey, Eric Brown, Samit Basu, Gina X. Grant, Elizabeth Massie, Tom Vater, Django Wexler, Bradley Beaulieu, Jason M. Hough, Lou Morgan, Paul S. Kemp.
Follow these links to purchase your copy now and support an important cause!