SF Signal have exclusively revealed the brilliant cover of Carrie Patel's The Buried Life, wonderfully created by John Coulthart. They also have 3 copies (ebook or physical, winner's choice!) of The Buried Life to give away; to enter, go to SF Signal for all the entry details.
The Buried Life by Carrie Patel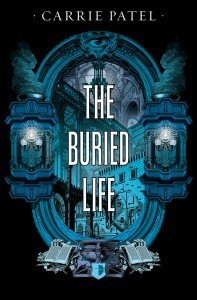 The gaslight and shadows of the underground city of Recoletta hide secrets and lies. When Inspector Liesl Malone investigates the murder of a renowned historian, she finds herself stonewalled by the all-powerful Directorate of Preservation – Recoletta's top-secret historical research facility.
When a second high-profile murder threatens the very fabric of city society, Malone and her rookie partner Rafe Sundar must tread carefully, lest they fall victim to not only the criminals they seek, but the government which purports to protect them. Knowledge is power, and power must be preserved at all costs…
US & Ebook: 29 July 2014
UK & ROW: 7 August 2014