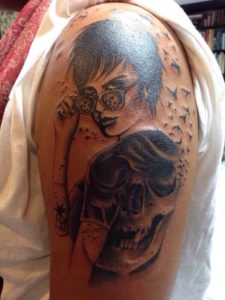 There are fans, and there are fans. We think that Cam Mezé from London (England) deserves the italics – perhaps with an "uber-" added to the front. Why? Because Cam is such a fan of Chuck Wendig's Miriam Black (from Blackbirds, Mockingbird and The Cormorant) that she commissioned this rather brilliant tattoo:
We asked her: why?
Cam: This tattoo was going to be my great dedication to my love of books, so it took a lot of research and a long time to plan. It was a toss up between something from American Gods by Neil Gaiman or something from the Miriam Black novels. In the end I decided that I wanted it to be a complex and strong female character, and Miriam Black is just that. Plus she's pretty kickass! She's not afraid to be dark or grim, she's funny, swears like a trooper, has parental issues and complicated relationships, and wants to defy fate and be better. These novels encompass many of the things that I enjoy reading about. When it came to deciding, Miriam Black was just a character I loved that stood out. I am in awe of all of Joey HiFi's covers, they're absolutely stunning, and it gave us (myself and Jordan Teear, the tattooist) a lot to work with.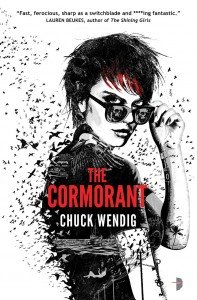 Surprisingly, for the amount of detail, the tattoo took around 2 1/2 hours to complete. When I first discussed the design with Jordan he thought it was going to be a pretty awesome. He really loved the palm trees and how amazing her lips are, so he had real fun with it. There was also a lot we had to cut back on, because there's so much detail. I knew I wanted a large skull in there somewhere, so Jordan suggested blending and fading it in with the T-shirt. I enjoy the fact that it's on the back of her T-shirt because as much as her 'curse' has to do with her dealing with death and having that foresight (skulls are great on the sunglasses for that), it also follows her. But at the same time, she is slightly tilted around and is ready to face it and beat it. Of all the covers, this was the one that worked best and included the things I wanted to convey. Plus she has that devilish grin, which is perfect!
I love her flaws and the fact that she's not perfect. And so she would be my ode in ink form to my love of books. She was my cover lady! 
I am so in awe of Jordan's talent and absolutely love the final piece. His work is amazing, so I knew he would do a fantastic job when I chose him; there was just something that clicked when I looked through his work. And I am stoked that both Chuck Wendig and Joey HiFi love it too, because we wanted to do their hard work justice.
Thanks, Cam!
The tattooist (as mentioned, above) is Jordan Teear at Frith Street Tattoo. You can find more of his work, here.
An Angry Robot box of goodies will wing its way to Cam after the Easter break – we think you'll agree she deserves it!